Receiving nurse aide training in Boone Terre, Missouri will assist you in passing the state competency exam which will qualify you to work. Programs will guide you through the process of working in the health care field. During instruction you will receive class theory & lectures as well as get to practice common skills used on the job.
Unitec Career Center
7163 Raider Rd
Bonne Terre, MO 63628
573 358-3011
http://www.ncsd.k12.mo.us/
By becoming a nursing aide, you will gain entry to the medical field. Comparing it to other medical courses, it will only take a fraction of the cost and time to become a nursing assistant. The state even allows a licensed nursing facility to hire an individual as an uncertified nursing aide, provided that they immediately train the individual and let him take the exams 4 months from the start of his work.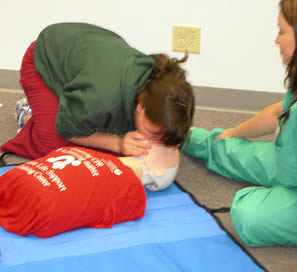 To be allowed to enroll in a course the applicant must be at least 18 (or be enrolled in a high school occupational class), free of any criminal convictions, and not listed on the state disqualification list. As a nursing aide student, you will be spending 75 hours for classroom lectures on the Fundamentals of Nursing and another 100 hours for clinical duties. You will learn different concepts such as infection control, mental health, rehabilitation, promotion of safety, assisting in different activities of daily living or ADL, and do certain emergency procedures.
To be allowed to work as a nursing assistant in a long-term healthcare facility, you must get your name on the NA Registry and maintain an active status. This can be done by simply working as a paid nursing aide for a day every 2 years.
Once you have been listed on the state registry as a certified nursing assistant for a period of 6 months you can apply to become a Certified Medication Technician (CMT). By completing the training course with a passing score for this license you will be able to administer some approved medicine.
Bonne Terre is a city that is situated in St. Francois County. According to the census of 2008, their total population was at 6,854. This city was originally settled by the French back in 1720. Boone Terre can be translated into English as "The Good Earth". It has a total area of approximately 4.1 sq miles and a population density of 1,713.5/sq mile.
Health care centers and providers that you can go to in the city include Freilich Ron E Dpm (573) 358-4631, Vibulakaopun Pairat (573) 358-5577, Jamaluddin M (866) 937-0200, Parkland Health Center (573) 358-1400, and many more. photo attribution: niels_olson