The certified nurse aide programs in Bolivia, North Carolina are all listed for you on this page. Classes found here are approved by the state of North Carolina. For more information about certification requirements, class schedules or tuition fees, just call the number below.
Brunswick Community College
50 College Road, Bolivia, NC 28422
(910) 755-7337
http://www.brunswickcc.edu/
All nursing assistant applicants who were able to successfully complete a North Carolina state-certified NA I training program are able to take the N.C. license exams. Applicants must be able to pass both parts (written/oral and skills evaluation) within 2 years after completing the program and must be 3 attempts to be entered on the N.C. NAR. While waiting to take the exams, you are allowed to work as a nursing assistant in a nursing facility for only up to 4 months.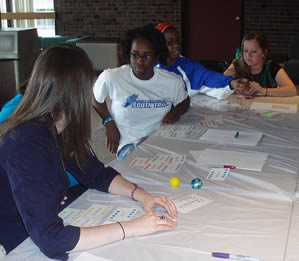 With the new system that was set up by Pearson VUE, all applicants are now to apply via online. When applying, they will need to specify whether they are going to take the exams for either at a regional testing site or at their own training facility. They will also be allowed to schedule the date that the candidate will take the exam. This method is both quick and convenient for the candidates.
Nursing students that are enrolled in a nursing educational program in North Carolina and are preparing to take their own license exams are also allowed to take the CNA license exams. Like those nursing assistant graduates, they are required to take the exam within 2 years from the completion of their training and are also given 3 attempts to pass the license exams.
If the candidate only fails one part of the exam, he will also be required to only take the part that the candidate failed in. After failing the third attempt, the candidate will be required to enroll in a refresher course before he is allowed to apply for the exams again. Once he completed the refresher course, he will then be given another 3 attempts to pass both exams within 2 years from completing the exam.
This town is situated in Brunswick County. It is also the county seat of that said county. Bolivia was named after South American nation and began in the 1890s. It became an incorporated town in 1911.  Bolivia is a part of the Wilmington Metropolitan Statistical Area and has a total population of 148. It has a total area of approximately 0.7 square miles, where all of it is land.
Examples of health centers and providers that you can find in the area include Brunswick County Government Center – Mental Health Center County Complex (910) 253-2456, Universal Health Care of Brunswick (910) 755-5955, and Bolivia Medical Center (910) 253-7990. photo attribution: create-learning