The state recognized schools that teach nursing assistant classes in Bellflower, California are shown in the detailed list below. You can see in the list different local programs, as well as  some of their schedules specified. You can contact the phone number provided to gain more information about their curriculum and enrollment procedures.
Bellflower Adult School
9242 East Laurel Street
Bellflower, CA 90706
(562) 461-2218
Infotech Career College
16900 Lakewood Blvd.; #209
Bellflower, CA 90706
(562) 804-1239
[Evening, Day And Weekend Classes Available]
Bellflower Adult School
9249 East Laurel Street
Bellflower, CA 90706
(562) 461-2218
[Evening Course]
The state of California is very strict when it comes to nursing aides. Because of the high demand for the profession, they now require all nursing aides to undergo proper training and pass the state's certification exam. This will help meet the goal of the Nursing Home Reform Act, to ensure quality care to patients in different healthcare facilities.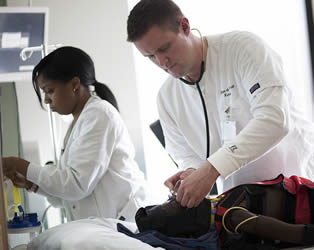 The certification exam was developed to test the competency of all nursing aide candidates. It is a way to standardize the ability of nursing aides throughout the country. This exam consists of a multiple-choice knowledge test and a random skills evaluation of the different nursing skills. You can only apply for the exam if you have successfully completed a state-approved training program.
Among the different training programs that you can enroll in, the most common way of establishing eligibility is by enrolling in a CNA training program that is approved by the California Department of Public Health. These programs offer at least 150 hours of training and consists of  both lectures and supervised clinical practice.
A program can either be facility or non-facility based. The advantage of enrolling in a facility-based program is that their students get to work as nursing aides even without a certification, so long as the facility takes responsibility for the action of their students. Students enrolled in this type of program are not allowed to perform any procedure that has not yet be taken up in the classroom.
Normally, successfully completing an approved program will make you eligible to apply for the exams for 2 years. However, if you enrolled in a facility-based program you will only have 4 months from the start of your work to get certified. Each student is given 3 attempts to pass both the tests of the certification exam. If you fail to pass within those attempts you will be required to complete another training program.
CNA certifications in this state are only valid for 2 years. A notice is sent out by the ATCS a few months before the expiration of your certification. If you fail to renew within that time your certification will expire. No individual is allowed to work in a state-approved nursing facility with an expired certification. You can only reactivate a certification by taking a competency evaluation exam within a year of your certification's expiration. If you let your certification expire for more than 2 years, and want to work as a certified nursing aide again, then you will have to start all over again.
This is a city that is considered a suburb of Los Angeles. As of the 2010 census, the population of the city has reached up to 76,616. The origin of this city's name came from the "bellefleur" apple, which was grown locally back in the 1900s. It has a total area of 6.2 square miles where only 1% of that is water.
Included among the top employers of the city are Bellflower Medical Center, Bellflower Dental Group, and Bel Tooren Villa Convalescent Hospital. Bellflower Medical Center takes the number 2 spot as the biggest employer with around 500 employees. Other health institutions in the city include Romero Medical Clinic, Bellflower Health Clinic, DR Robert's Medical Center, Rosa Villa Care & Rehab Center, Del Health Care, Promptcare Health Service Inc., Mid Cities Ipa, and Covenant Grace Medical Group. photo attribution: codnewsroom