The nursing assistant programs in Baldwin, Georgia that are available at this time for you to join are displayed below. Contact the school phone number for more assistance on how you can enroll in their training.
The Oaks of Scenic View
205 Peach Orchard Rd.,
Baldwin, GA 30511
(706) 778-8377
In the process of becoming a nursing assistant, you are required by the rules to undergo proper training and education by enrolling in a certified CNA program. The Nursing Aide/Assistant Training Programs in Georgia are offered by technical colleges, community training centers, private schools, government approved nursing homes, and other institutions. When selecting a program to enroll in, you have to make certain that the program is approved by the Georgia Medical Care Foundation. It takes about 2 to 6 months of training to graduate from a program. After you complete your training, you can then take on the state's licensee exams. This process makes sure that the standards of care for patients that are rendered by nursing assistants are top quality.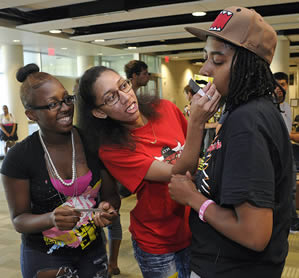 The training in certified programs will be composed of labs, theoretical lessons, and clinical rotations. The lessons and the lab training will come first in the training. To proceed to the clinical rotations, it is required by the state that the student must get a 100% rating on their labs. When they are in the clinical area, the students will be placed under the supervision of a registered nurse. Each section that a trainer handles should not exceed a maximum of 14 students. No additional students are also added when the training has started.
Taking the licensee exams in a must step since the state does not allow a nursing assistant to work in any healthcare facility for more than 4 months. To get your name entered in the state's Nurse Aide Registry, you must be able to pass both the written and skills evaluation exams. There are also cases where the written examinations are replaced with an oral exam. Once your name is in the Registry, you will then receive a nurse aide license.
This city is a part of both Banks and Habersham counties. You can find this city on U.S. Route 441 and just south of State Route 365. According to the census of 2010, their total population was at 3,279. It has a total area of about 3.6 sq miles and a population density of 673.6/sq mile.
Examples of health care centers and providers that you can find serving the city include Take Care Clinic at select Walgreens, Fieldale Farms Family Medical Center, The Oaks At Scenic View, York Kurt DR, Fieldale Farms Family Medical Center, and many more. photo attribution: codnewsroom