The certified nursing assistant courses in Athens, Pennsylvania that are being offered as of the making of this page are shown to you here. For more information about the requirements to enroll in a state authorized training school please contact the phone number below.
Ashton Healthcare Nursing and Rehabilitation
200 South Main St.,
Athens, PA 18810
(570) 888-4673
A CNA certification is a requirement to work as a nurse aide in a health care facility that receives Medicare or Medicaid reimbursement. To get certificated, you will have to meet several requirements such as clearing the national background checks, undergo physical and medical exams, successfully complete a training program, and pass the exams.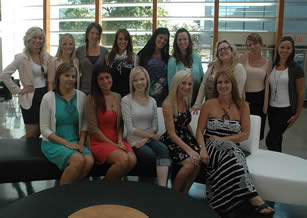 All nurse aide applicants are required to undergo the federal and state criminal background checks with fingerprinting. No individual is allowed to enroll in a training program that's approved by the Pennsylvania Department of Education without clearing the checks. An in-state resident who is already working or has received an offer to work as an non-certified nurse aide may only work for up to 30 days while waiting for the background check results. Out-of-state residents are allowed to work for up to 90 days.
After passing the checks, the next step is to look for a suitable training program. Aside from clearing the background checks, applicants will also need to undergo physical and medical exams in order to enroll in a program. When looking for a program, just remember to choose only a program that is approved by the Department of Education. These programs consist of 80 hours of instructions, of which 37.5 hours are allocated for supervised clinical practice. Most of the programs offered in the state can be completed within 12 to 24 weeks.
You can submit your application for the CNA exams as soon as you complete your training. If your instructor does not provide you with the necessary forms, you can visit www.pearsonvue.com and download a copy. The forms must be accurate and complete before submitting them to the American Red Cross. If you have some trouble completing the application, you may talk to an ARC representative by calling (800) 852- 0518.
The CNA exam is a two part examination that consists of a 2 hour written exam and a 30 minute skill exam. Both tests must be passed within 24 months after an applicant has completed his or her training. Each applicant is allowed to take the exams up to 3 times within that 24 month period. If he or she fails to pass within that time, or uses up all the attempts, then onee must complete another class
You'll need to arrive at least 30 minutes before the given exam schedule. Latecomers are no longer allowed to take the exam once it has begun. Applicants are required to bring 2 recent, valid identification cards for the check-ins, two #2 pencils, an eraser, their SS number, and a watch with a second hand.
The exam results are released on the same day if there are not technical problems. If you are able to pass both tests, then your name will be entered into the Nurse Aide Registry, and you will be given a Registry Card. You must show this card when you apply for a job. The card will be sent within 3 weeks after passing. Do not make any changes to the card since it may affect your status on the Nurse Aide Registry.
Your registration is only valid for two years. You need to renew your registration through the Department of Health if you wish to continue working as a CNA. You'll need to provide proof that you were able to work for at least 8 hours while under the supervision of a registered nurse in a certified nursing facility. Once you complete your renewal, the NAR will send you a new Registration Card with your updated information.
This is a borough that is located in Bradford County. It is located about 2 miles from the N.Y. state line. It is also situated on the Chemung and Susquehanna rivers. According to the census of 2000, their total population had reached up to a total of 3,415 people. They have a population density of 1,934.9 people per square mile. The total area of the borough is approximately 1.8 sq miles, where all of it is land.
Examples of health care centers and providers that are located in the area include Guthrie Clinic LTD – Central Appointments, Bradford County Mental Health, Guthrie Clinic, Ashton Health Care, Hahn Kurt R, Lasco George DR Dntst, Stoback H S DR, Harvey Barbara MD, Kelly John A DR, and many more. photo attribution: ufv