By enrolling in certified nursing assistant training in Altoona, Wisconsin you will get skill experience and learn the procedures used by workers on the job. Courses shown below are open for enrollment and are all approved toward certification requirements by the state of Wisconsin.
AMERICAN RED CROSS – WESTERN WISCONSIN CHAPTER
3728 SPOONER AVE
ALTOONA, WI 54720
(715) 834-4182
Have you been thinking about starting a career as a healthcare provider in Wisconsin? Well, if you have, then you might want to consider becoming a nursing aide. Although nursing aides work under the supervision of registered nurses or LPNs, they are very important members of the health care team. There are plenty of jobs waiting as well as chances for career advancements for those who are working as certified nursing aides.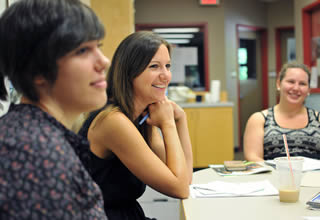 A CNA certification is a requirement to work in a federally-certified (Medicaid/Medicare) nursing facility as a nursing aide. The certification process begins with enrolling in a state-approved training program and ends with the passing of the National Nurse Aide Assessment Program Examination or NNAAP exam. Compared to other careers, you can start working as a full-time nursing aide in only a matter of weeks.
The NNAAP exam consists of a written/oral exam and a practical skills test. Candidates who pass both tests will be entered into the Nurse Aide Registry, and they will be given a CNA card, which they can use to show their potential employers that they are competent nursing aides. A nurse aide certification will allow its holder to work in any healthcare facility within the state.
Want to work elsewhere? Well, if you find work in another state, then all you have to do to work there as a nursing aide is to apply for reciprocity. Since each state has its own set of rules and regulations regarding reciprocity, interested nursing aides will need to contact the Board of Nursing or the Department of Health for that state. You can also check other state's NAR contact information by following this link:
http://www.asisvcs.com/publications/pdf/079960.pdf.
If you want to increase your responsibilities as a nursing aide as well as your chances of a salary raise or promotion, then you can easily do so by getting a medication aide certification. Nursing aides who have CMA certification are allowed to provide patients with certain medication while still under the supervision of registered nurses.  All you have to do is to complete an approved CMA program and apply to gain entry into their Registry.
To be accepted into a medication aide training course you must:
–    Be at least 18 years old
–    Have a high school diploma or something equivalent
–    Be currently listed on the WI-NAR
–    Have at least 2000 hours of experience in patient care within the last 3 years
–    Have worked for at least 40 hours as a certified nursing aide, within the last 90 days
–    Have a written letter of recommendations from licensed charged nurses; the director or nursing; and the administrator of the agency which you will be working during the clinical training.
For more information regarding the medication aide certification process, please follow this link: http://www.dhs.wisconsin.gov/rl_dsl/NHs/MedAides.htm. If you have further questions which need to be answered, then feel free to call (608) 266-5388.
This city is in Eau Claire County. The earliest settlement began in 1881. The name was taken from a railroad terminal back in those days. According to the census of 2010, their total population was around 6,706 people. It has a total area of approximately 4.3 sq miles and has a population density of 1,564.7/sq mile.
Health care centers and providers that you can find in the area include Phoenix Medical Services Inc., Oakwood Villa: A Nursing and Rehabilitation Center, Chippewa Valley Cremation Services, Plombons All Faiths Funeral & Creamation Service, Oak Gardens, Health4life Chiropractic LLC, Sans Souci Massage & Natural Healing Center, Grace Adult Day Services of Altoona, and Group Health Cooperative of Eau Claire. photo attribution: ufv