The certified nursing assistant programs that are open for enrollment in Adel, Georgia are shown on this page. If you know of other certified classes that have been authorized by the state, please contact us and we will add them to the page.
Cook High School
1200 North Hutchinson Ave.,
Adel, GA 31620
(912) 896-2213
The completion of CNA classes is the first requirement that you must take to become certified. To ensure that you will receive quality training that applies toward taking the state exams, you should make sure that the program you enroll in is approved by the Georgia Medical Care Foundation. This private contractor makes sure that the programs produce nursing assistant graduates that are competent to handle different situations. It is also crucial that the nurse aides in this state meet the hiring qualifications of Medicaid healthcare facilities.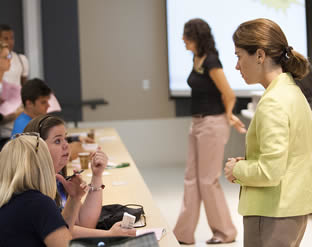 The certified programs offer the students a minimum of 85 hours of training. These hours are divided into lectures, laboratory skills training, and clinical rotations. The student will only be allowed to proceed into the clinical rotations if the student gets a 100% rating in the lab. When the students are in the clinical area, they will be placed under the care of a registered nurse or a member of the healthcare team.
During your instruction you will receive the minimum of 24 hours of clinical duties. The skills you will practice using include catheter care, range of motion exercises, taking vital signs, transporting patients, feeding, dressing, housekeeping, infection control, and basic first aid.
After the training, the next step is to take on the license exams. The exams will be composed of a written and a skill evaluation. You must pass all the exams to get your name entered in the state's Nurse Aide Registry. You must maintain this status to be eligible to apply for long-term work.
This city is the county seat of Cook County. It was originally named as Puddleville but was later changed by the city's first post master. According to the latest census, their total population was at 5,334. It has a total area of approximately 8 sq miles, where almost all of it is land. Its population density is estimated to be 663.4/sq mile.
Health care centers that you can find serving the city include Cox Jason N MD, Family Health Center of Adel Inc., Adel Family Medicine, Sohnen Howard DR Dgnob-Gyn, Fausett Thomas D Jr MD, Sellers Tim DR Optometrist, Corbitt Mark A DR, and many more. photo attribution: codnewsroom