Nurse aide schools that are open for instruction in Yerington, Nevada and are approved by the State's Board of Nursing are shown to you in detail on this page. If you have any questions regarding enrollment procedures, program schedules, or certification requirements, please call the number provided below.
Yerington High School
114 Pearl St, Yerington, NV 89447
(775) 463-6822
http://www.lyon.k12.nv.us/
(Classes are offered to high school students only)
South Lyon Medical Center
213 S. Whitacre, Yerington, NV 89447
(775) 463-2301
http://southlyonmedicalcenter.org/
In order to work in the state of Nevada as a nursing assistant, one must be able to get one's name into the state's Nurse Aide Registry. If one is already a nursing assistant that is currently registered in another state's Registry, one is able to apply for Interstate Endorsement if one wishes to start working in Nevada.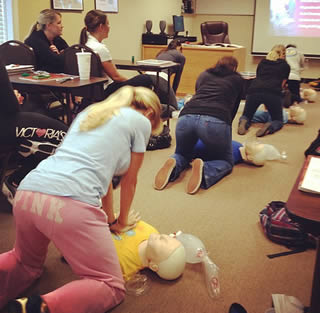 When applying, one must submit a completed application form, which can be downloaded from Nevada's Board of Nursing website. Aside from that, the state will also request a valid endorsement form from all the states that one was registered. Since each state will also have its own set of requirements to complete an endorsement form, it is better to contact their Registry and ask for the requirements. This link (http://nevadanursingboard.org/wp-content/uploads/2012/03/CNAstatenurseaideregistrydirectory.pdf) contains all the Registries contact number.
All applicants are also required to pass both the federal and state background checks. To do this, one will need to fill out and submit a completed fingerprint card. It may take up to 4 months before the Board to receive the official results from the FBI. During that time, one may apply for a temporary license to start working in the state.
The license examination is given by Pearson Vue and then sent to the Board for verification of your requirements. Usually after successfully passing the exams the official results take two to three weeks to be received and verified by the Board. You can call them to check on the status of your certification or for further inquiries by calling toll free at (888) 590-6726. Once certified you will still be required to renew your certification every 24 months. This is completed by sending in verification of your employment and working at least 8 hours on the job as a nurse aide.
This city is a part of Lyon County. It is situated in the western part of Nevada. This city was named after Henry M. Yerington. It is also the county seat of Lyon County. According to the latest census, their total population is about 2,883. It has a total area of approximately 8.55 sq miles, where all of it is land. Its population density is 1,698.4/sq mile.
Examples of health care centers that you can find in the area include Yerington Paiute Tribe, South Lyon Medical Center, Home Health Services of Nevada Inc., State of Nevada – Yerington Mental Health Center, Sierra Nevada Ear, Nose & Throat, and Sciarani-Blake Joan MD. photo attribution: brenbot