The nursing assistant classes in Woodward, Oklahoma that are shown on this page contain the most recent school programs that are open for enrollment. Interested participants are encouraged to call a state authorized instruction facility to learn more about enrollment openings and the latest requirements.
High Plains Technology
3921 34th St.,
Woodward, OK 73801
(580) 256-6618
If you are planning on entering the medical field, then you should consider becoming a nurse aide. This type of job is increasing in demand as the population increases. Another reason for this is because of the decreasing number of nurses and their high pay rate. As a nurse aide, you will be working under the supervision of a registered nurse while using the basic nursing skills that you will learn in a CNA training program.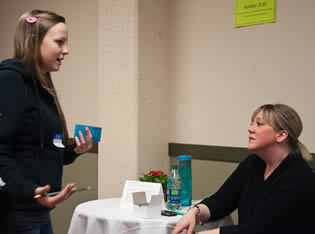 A nurse aide can be defined as any person who provides, for pay/compensation, nursing or nursing-related care services to patients who reside in a nursing facility or other healthcare centers. According to the OBRA, all nurse aides must be listed on the Nurse Aide Registry of the state that they work in.
To get on the NAR in Oklahoma, nurse aide candidates must first undergo the proper training. They may choose to enroll in a state-approved program that is offered by different training institutions. You can find these programs offered by community colleges, nursing homes, hospitals, and even online. While in the program you will be under the supervision of a qualified nurse aide instructor. The instructor is a registered nurse or a LPN who has at least 2 years of experience; one of those years were spent working in a long-term care facility. These instructors also have background experiences in adult education or in supervising nurse aide students.
By completing a state-approved program, you can then apply for the state competency exam. This exam will test your knowledge and skills on who to work as a nurse aide. If you are able to pass all the tests, your name will be added to the NAR as soon as the Headmaster Testing Service sends your results to the OSDH. However, if you fail in at least one of the tests, you will be required reapply and retake the test that you failed in.
The state also accepts applicants for reciprocity. Reciprocity is the process that gives a nurse aide, who is registered in another state, eligibility to transfer and work in a nursing facility within Oklahoma. Applicants must have an active certification and be able to pass the national background check. Nurse Aides with records of patient abuse, negligence, or misappropriation of the patients' property may not be allowed to work in the state.
Listings on the NAR will only remain valid for 24 months. To maintain your status as a CNA, you will have to renew your certification every 24 months.  To be eligible for renewal, you must work for at least 8 hours as a paid nurse aide. During these hours, you must be under the supervision of a registered nurse.
Woodward is the county seat of Woodward County. It is considered as the biggest city in the nine-county area. This area was once the place of the Kiowa, Comanche, Cheyenne and Arapaho tribes. According to the census of 2010, their total population had reached up to a total of 12,051 people. They have a population density of 910/sq mile. The total area of the city is estimated to be around 13.2 sq miles, where the majority of it is land. A large part of the economy of this city is centered on agriculture.
The health care centers that are found in the area include Regional Chiropractic & Rehabilitation, Urgent Care of Woodward, Woodward Clinics, Oklahoma Cardiovascular Associates, Family Wellness Center, Northwest Center for Behavioral Health, Woodward HealthLink – Main Street Clinic, Woodward Clinic Company, Choice Physical Therapy, Generations Senior Care Program, and Woodward Dialysis Clinic. photo attribution: ufv