The nurse aide training in Woodland Hills, California are listed below. If you know of any other programs or schools that provide a certification as a CNA. You can contact us so we can add them to the list.
El Camino Real Adult School
5440 Valley Circle Blvd.
Woodland Hills, CA 91367
(818) 888-1491
West Valley Regional Occupational Center
6200 Winettka Ave
Woodland Hills, CA 91367
(818) 346-3540
One of the best ways to start a career in the field of health is to become a nursing assistant. Not only is the profession in demand throughout the United States, but there are also different ways to become one.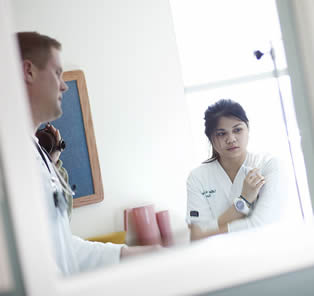 Certified Nursing Assistant Applicants
All aspiring nursing assistants must successfully complete a state-approved training program and take the National Nurse Aide Assessment Program Examination to get a CNA certification. Before submitting the application for the NNAAP exam, candidates must first submit the following to the ATCS:
•    Completed Initial Application Form (http://www.asisvcs.com/publications/pdf/070503.pdf)
•    The second copy of the completed Request for Live Scan Services ( BCIA 8016) form
Candidates must wait for the approval of the ATCS before they can send their application forms (http://www.asisvcs.com/publications/pdf/070508.pdf) along with the payment of $90/$105 for the testing fee to the ATCS.
Equivalency-Trained Nursing Assistants Applicants
This route is available to individuals who are currently a registered nurse, licensed vocational nurse, medic, licensed psychiatric technician, or has any medical training in the military. Their licenses can come from either the United States or a foreign country.
The following must be submitted to the ATCS before applying for  the NNAAP exam:
•    An official transcript of records
•    Proof of work, with compensation, of nursing or nursing-related services within the last 2 years (not required for nursing students or fresh graduates).
•    A copy of the completed Request for Live Scan Services
•    Completed Initial Application Form
Nursing Assistant Certification through Reciprocity
This is only for certified nurse aides from other states. Their requirements are basically the same as those who are applying for equivalency-trained nursing assistants. It is important that applicants still have a valid certification and a clean record. Their names must not be on the Abuse Registry, which means that they must not have any records of patient abuse, neglect, or misappropriation of their property.  Unlike the previous routes, applying for reciprocity no longer involves taking the certification exam.
Woodland Hills is one of the many districts of Los Angeles. This city is located in the southwest area of San Fernando Valley. To its east, you can find Calabasas and Tarzana on the oposite direction. You can see on the northern boarders West Hills, Canoga Park, and Winnetka. It is also along U.S. Route 101 which is the Ventura Freeway. As of 2000 the population of the city was 67,006.
Health care centers within the area include American Association for Quality Health Care (818) 591-8700, The Center for Postpartum Health (818) 887-1312, California Health Care Provider (818) 888-7844, Woodland Hills Medical Clinic (818) 340-3636, Health Care Associates of Woodland Hills (818) 225-7666, Woodland Hills Orthopedics & Sports Medicine (818) 225-8666, Valley Wholistic Health Center (818) 887-4000, and National Healthcare Review (818) 704-6144. photo attribution: codnewsroom