Classes in Wenatchee, Washington to become skilled at working as a nursing assistant are listed below. Not only will this training teach you the proficiencies required for the job, passing a class is mandatory before you can become certified.
Wenatchee Valley College
1300 5th Street,
Wenatchee, WA 98801
(509) 682-6662
Wenatchee High School
1101 Millerdale,
Wenatchee, WA 98801
(509) 663-8117
An NAC Certification is required to work as a full-time nursing assistant in Washington. One needs to undergo training in a state-approved training program, pass the national criminal background checks, and get into the Nurse Aide Registry – by challenging the National Nurse Aide Assessment Program Exam (NNAAP exam), to get a certification.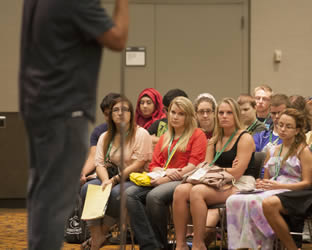 Nursing Assistant Training
The most common way of learning how to become certified is by enrolling in an NATP or a Nursing Assistant Training Program. The state's Department of Social and Health Services (DSHS) required programs to have 35 hours of theory and 50 hours of practical training. Both theory and practical training are done simultaneously. Every program is headed by a licensed nurse with background experiences in working in long-term care facilities and teaching nursing assistant students. Depending on the program you choose, it can take you 2 to 6 months to complete your training. Those who are already working as nursing assistant-registered must complete their training within 4 months from the start of their work.
Criminal Background Checks
These checks have become mandatory because of the numerous problems that occurred in the healthcare setting that involved different health care providers. These checks are done mainly to protect the patients. Persons with records of physical and substance abuse, as well as theft might have trouble passing the background checks. If a person doesn't pass the checks, he or she won't be allowed to enter the practical training portion of the program, and won't be allowed to get certified.
The National Nurse Aide Assessment Program Examination
The NNAAP exam was developed to test aspiring candidates in their competency of knowledge and skills. This exam is divided into a 70 item written/oral test and a random skills evaluation. Candidates are given 2 hours to answer all multiple questions and 25 minutes to perform all 5 requested nursing skills/procedures. Candidates who pass both tests will gain entry into the Nurse Aide Registry and be allowed to apply for a DOH-issued NA Certificate.
Certification through Endorsement
A CNA from another state is allowed to transfer and work in Washington through endorsement. To qualify, the applicant must have an active certification and a clean record. Once a person is listed on the Abuse Registry, he will no longer be allowed to work in a state-approved health care facility. If a person has been certified for more than 2 years, he or she will be required to show proof of employment.
Information:
If you have any questions, you can call the DOH Customer Service at (360) 236-4700 or the DSHS OBRA-Nurse Aide Registry at (360) 725-2597. You can also visit the official websites at www.altsa.dhs.wa.gov or www.doh.wa.gov.
This city is the county seat of Chelan County. It is a pain city of the Wenatchee–East Wenatchee, Washington Metropolitan Statistical Area. According to the latest census, their total population had reached up to a total of 31,925 people. It has a total area of approximately 7.3 sq miles, where only 0.4 sq miles of it is water. It has a population density of 4,049/sq miles.
Examples of health care providers that you can find serving the city include Central Washington Hospital, Eye & Ear Clinic, Central Washington Hospital Family Physicians, Wenatchee Valley Medical Center, Bergman R Thomas MD, Hogness Christopher MD, Columbia Valley Community Health, and Central Washington Sleep Diagnostic Center. photo attribution: codnewsroom