The facilities in Warrenton, Virginia that offer nurse aide training that are open for enrollment as of the making of this post are listed on this page. If you have any questions about classes available in the city of Warrenton, Virginia, please call the number for one of the training facilities provided below.
Oak Springs of Warrenton
614 Hastings Lane
Warrenton, VA 20186
(540) 347-4770
Warrenton Overlook Health and Rehabilitation Center
360 Hospital Drive
Warrenton, Virginia 20186
(Multiple classes are being offered)
According to the OBRA of '87, all nursing assistants must be trained and certified before they can work in a state-approved health care facility. Requiring proper training and certification will help ensure that patients receive quality care from their health care providers.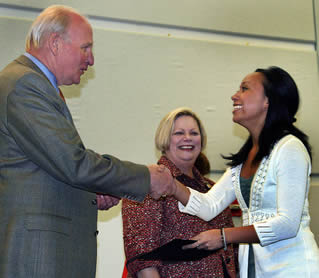 The NNAAP exam was designed to be a standard of competency for all nursing assistants in the United States. It tests aspiring candidates in both knowledge and skills. Candidates must pass both tests to gain entry into the Nurse Aide Registry. Once their names are on the NAR, they will receive a CNA certificate from the Virginia Board of Nursing.
Before you can take the NNAAP exam, you must first establish eligibility by enrolling in a CNA training program that is approved by the state. Due to the number of people who wish to become nursing assistants, there are now a lot of institutions and schools that are offering training including hospitals, community colleges, nursing homes, vocational and technical schools, and government organizations.
Your training will be valid for 2 years. This means that you must pass both the written (oral) test and the random skills evaluation within that time. The great thing about the certification process in this state is that unlike other states, there is no limit to how many times you can retake the NNAAP exam. Please remember that when you reapply for a retake, you must also pay for the corresponding testing fee(s). You can find out what those fees are by downloading a copy of the Candidate Handbook from this link:
http://www.asisvcs.com/publications/pdf/075300.pdf. The candidate handbook also contains other useful information like a sample knowledge test.
Once your name is in the Registry, it will be your responsibility to keep your record updated. You must renew your certification every 2 years to keep it from expiring. No CNA is allowed to continue working with an expired certificate. To avoid any trouble in renewing, please inform the Registry if you ever change your name or address by submitting a Change of Name/Address form, which can be found in the Candidate Handbook.
A nursing assistant who is certified in another state may not require to test to work in Virginia. They can transfer their certification and work in the state by applying for endorsement or reciprocity. Interested applicants must have a current and valid certification and a clean record. They must not be on the Abuse Registry with any records of abuse, neglect, or misappropriation of the patient's property.
Warrenton is the county seat of Fauquier County. According to the census of 2010, their total population was at an estimated total of 14,634 people. Warrenton has a total area of approximately 4.2 sq miles and has a population density of 1,574.8/sq mile. This town was incorporated back on January 5, 1810 and was named after General Joseph Warren, a Revolutionary War hero. Major roads that you can use to get to this city include U.S. Route 17, U.S. Route 15, and U.S. Route 221.
Health care providers that you can find in the area include Saul Center Inc., First Call Home Health, Fauquier Hospital, Child Health Associates LTD, Fauquier Counseling Center, Behavioral Healthcare of Rappahannock, STD Test Express, Cleansing Water Healthcare, and Alliance Therapy Center. photo attribution: codnewsroom