In the area of Sunnyside, Washington one can find the following nursing assistant schools open for enrollment. Instruction will help prepare students for the examination and caring for patients in health care facilities. To learn more about the steps required to become licensed, contact the faculty directly.
Yakima Valley Technical Skills
437 Barnard Blvd.,
Sunnyside, WA 98944
(509) 930-2708
A nurse aide is an important member of the health care team. It is currently one of the most popular healthcare professionals in the United States. Due to the number of people who wish to become nurse aides, the federal and state has required all aspiring nurse aides undergo proper training and pass the certification exam before working as a full-time nurse aide.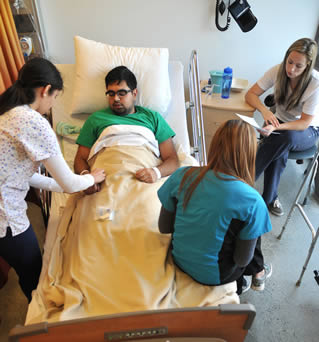 Proper certification is also a requirement for any healthcare training facility that wishes to offer nurse aide training. The state's Department of Social and Health Services is responsible for certifying and monitoring all programs within the state. These training programs are not allowed to take any student before getting a certification.
The amount of training hours is important for a training program to get certified. A program in Washington must comprise of at least 85 hours. These hours are divided into 35 hours of lectures and 50 hours of supervised clinical practice. All programs are required to be headed by a registered nurse with enough experience working in a long-term care facility. For you RNs and LPNs who wish to take a break from your working routine, you can try and consider becoming a CNA Instructor.
Most of the programs in the state can be completed within 6 months, especially for facility-based programs. As soon as you are through with your training your next step is to apply for the state competency exam. You can get the necessary application packet from by visiting www.pearsonvue.com. You can also download a copy of the Candidate Handbook from their site to give you a better understanding of the CNA certification process.
The certification exam is divided into a written/oral exam and a practical skills test. Due to the number of candidates, the state has asked the help of Pearson VUE to assist in conducting, scoring, and releasing the exam results. If there are no technical problems, candidates who are able to pass both tests will gain entry into the Nurse Aide Registry. Once their names are on the Registry, they'll be allowed to apply for a CNA Certificate from the state's Department of Health.
If you want to know more about the how to become a certified nursing aide, feel free to contact any of these numbers:
DSHS OBRA-NAR – (360) 725-2597
DOH Nursing Assistant Certification – (360) 236-4700
Pearson VUE – (800) 274-4097
This city is situated in Yakima County. The city was founded back in 1893 by Walter Granger. The current name of the city was given by W. H. Cline, who was a merchant. According to the latest census there, their total population had reached up to 15,858 residents. It has a total area of 5.9 sq miles and has a population density of 2,340.4/sq mile.
Health care providers that you can find serving the city include Sunnyside Community Hospital, Sunnyside Family Medicine, Mid-Valley Community Clinic, Yakima Neighborhood Health Services, Central Washington Podiatry Service, and many more. photo attribution: ufv