The state tested nurse aide (STNA) classes in Cleveland, Ohio that are available for enrollment are listed on this page. If you want to find out the program curriculum, certification requirements, cost to enroll, or class schedules you can call the facility or go to the address below.
American Red Cross CNA Program
3747 Euclid Ave.,
Cleveland, OH 44115
(216) 431-3010
Menorah Park Center for Senior Living
27100 Cedar Road,
Cleveland, OH 44122
(216) 831-6500
http://www.menorahpark.org/
Cleveland Job Corps
1020 Bolivar Rd.,
Cleveland, OH 44115
(216) 541-2500
http://www.redcross.org/oh/cleveland
Cuyahoga Community College
700 Carnegie Ave.,
Cleveland, OH 44115
(216) 987-4000
http://cleveland.jobcorps.gov/home.aspx
Health Careers Center High School
3122 Euclid Ave.,
Cleveland OH 44115
Kethley House at Benjamin Rose Place
11900 Fairhill Rd.,
Cleveland, OH 44120
(216) 795-5450
Lutheran Metropolitan Ministry Nurse Aide Course
1468 West 25th Street,
Cleveland, OH 44113
(216) 696-2715
Rudwick Manor Special Care Center
17322 Euclid Ave,
Cleveland, OH 44112
(216) 486-2280
With more and more people becoming concerned and needing help with their health, the health industry is booming. Because of this, a number of individuals are now looking for ways to start a career in healthcare. The best option of them right now is to become a nursing aide. The demand for this profession is constantly on the rise.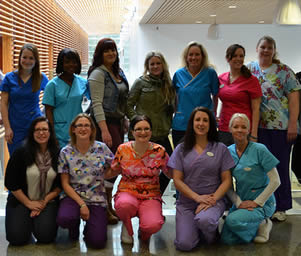 To become a STNA in Ohio, you will need to first enroll in a state-approved training course. To enroll, you must show your high school diploma, undergo physical exams to determine that you are physically capable of handling patients, and pass the state and federal background checks for criminal records. Because of the high demand for this profession, you will not have any problems looking for a suitable course to enroll in. If you want to get more details about the courses you can contact the Nurse Aide Training Competency Evaluation Program or NATCEP at (614) 725-8285.
Once you complete your training, which takes 5 to 8 weeks, you can then apply for the license exams. The exams will be composed of two parts; a written and a practical skill demonstration. You must be able to pass both parts for you to get your license and be placed on the Ohio registry. Once you receive your license, you will then become a STNA or state-trained nursing aide and eligible to work.
Only when you get your license will you be allowed to work at a long-term care facility for more than 4 months. Having a STNA license means that your name is entered on the state's NAR. You status on the Registry will remain active so long as you are able to provide proof that you were able to work for a minimum of 8 hours every 24 consecutive months. These hours may are cumulative and may be completed at different days.
If you lost your license, you may request to have a replacement for a small fee of $25. To request, you will need to call D&S Diversified Technologies at (877) 851-2355 or visit their official website at (http://www.hdmaster.com/testing/cnatesting/ohio/OH_STNA_Home.htm) and fill out the request there. You can also request for another card if you changed your name. For this, you will need to provide the Registry copies of:
•     Your driver's license or a government-issued ID
•    SS card
•    Legal document showing proof of your change in name.
Cleveland is the state capital of Ohio. It is also the county seat of Cuyahoga County. You can find this city in the northeastern part of the state and on the southeastern shores of Lake Farie. It is also located a few miles from the border off Pennsylvania. This city is also called as The Forest City. According to the 2010 census, their total population was around 396,815 people, making it the 45th most populous city in the country. It has a population density of 5,113/sq mile. The total area of this city is estimated to be around 82.4 sq miles, where 4.8 square miles of it is water.
Health care centers that you can find serving this city include The Lu-Jean Feng Clinic, Northeast Ohio Neighborhood Health Services Inc., Recovery Resources, Positive Education Program, University Hospitals Urgent Care, Hometech Healthcare Services LLC, Saint Clair Health Center, Odyssey Health Care of Cleveland, The Cleveland Surgical Suites, Crawford Manor Health Care Center, Ultra Care Home Health Services, Metrohealth Asia Plaza Health Center, Psychological & Behavior Consultants, and many more. photo attribution: ufv