Below are all the CNA classes that are currently available for enrollment in Starkville, MS. To learn more about how you can training and certification exam preparation experience, contact the school. Students must enroll in state approved course in order to be eligible to take the license exams and receive certification to work.
Millsaps Career and Technology Center
803 Louisville Road,
Starkville, MS 39759
(662) 324-4170
http://www.starkville.k12.ms.us/education/school/school.php?sectionid=1134
If you want to work in Mississippi as a nursing aide, you will need to have a CNA license. The only ones who have a license are those who were able to pass the federal and state testing and training regulations.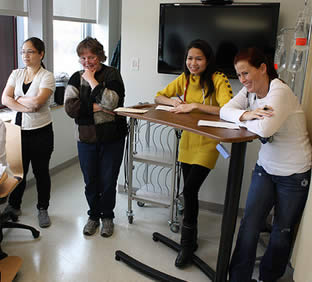 The first thing that you need to do is to enroll in a state-approved program. You need to be at least 18 years old to be accepted in a program. You must also be physically capable and be able to pass the background checks for criminal records. Once you are accepted, you will spend the next 6 weeks training. Your training will be composed of theories and on-the-job training.
By completing an approved program, you will become eligible to apply for the license exams. All those who want to become a CNA must be able to pass the written/oral exam and the skills evaluation. The authorized conductor for this state's exams is Pearson Vue. If you want to know more about the exams, you can visit their site at www.pearsonvue.com. You can also speak with them by phone at 1-888-204-6213.
The state allows those who have previously been certified here or those who are certified in another state to apply for reciprocity. This process allows the applicant to avoid retaking a training program and go right to taking the certification exams. In order to qualify you must fill out and submit a reciprocity application. In addition you will need to pay a $26.00fee as well as a fee for testing of $101.00. The applicant is only allowed one chance to pass the tests, or be required to re-enroll in a training course. To learn more about how you can qualify for reciprocity you can call the MS State Department of Health at 601-364-1100.
The City of Starkville is currently the county seat of Oktibbeha County. The name of this city was taken from a Revolutionary war hero named General John Stark. This city used to be known as Boardtown until it was established as the county seat. Starkville is also known as Starkvegas.  It is the anchor to the Golden Triangle region of the northeast region of the state. According to the 2010 census, the population of the city reached 21,869. It has a total area of 25.8 square miles.
There are quest a number of healthcare providers and centers located in the city. Examples of them are Starkville Urology Clinic, Starkville Pediatrics, Family Clinic, Starkville Orthopedic Clinic, OCh General Surgery Association, Starkville Clinic for Women, Community Counseling Services, North MS Hematology & Oncology, and Otolaryngology Associates. photo attribution: leonardodasilva