The programs offered for one to become knowledgeable in working as a nurse aide in Stanardsville, Virginia are shown on this page. Courses found here have met with state approval and are currently open for you to join. For more information, please call the number provided below.
Greene County Technical Education Center
10415 Spotswood Trail
Stanardsville, Virginia 22973
(434) 985-5239
The goal of the Nursing Home Reform Act is to provide quality care to patients in different health care settings. That is why health care providers must now be either certified or licensed by proper authorities to work in a state-certified training program. Two of the best ways to get into the field of health is to become a nursing aide or a medication aide, since these two are both entry-level professionals.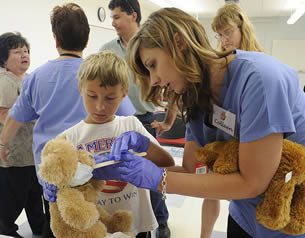 The certification process for nursing aides begin by entering a CNA course that is approved by the Board of Nursing and ends with passing the National Nurse Aide Assessment Program exam or NNAAP exam. You can only take the NNAAP exam if you undergo proper training from a program that is approved by the state.
CNA training in Virginia consists of 75 hours of theory and supervised clinical practice. Every training program is headed by a licensed nurse with at least 2 years of nursing experiences working in a long-term care center and has background experiences with handling student nursing aides. Students are not allowed to perform any procedure that has not yet be taught in the classroom, nor are they allowed to perform one without the knowledge of their instructor. Depending on the course you choose, it can take you 2 to 6 months to finish your training.
Nursing students, graduates, registered nurses, and licensed practical nurses are allowed to directly apply for the NNAAP exam without any further training. These applicants will be required to provide proof of their education and training when they apply.
The NNAAP exam is divided into a 70 item knowledge test and a random skills exam. Candidates are given 2 hours to answer all multiple-choice questions and 30 minutes to perform 5 required nursing procedures or skills in front of a nurse aide evaluator. Candidates must pass both tests to get certified.
Being certified as a nursing aide works well if you also have a CMA certification. If you have a CMA certification you will be allowed to give certain medication to patients while still working under the supervision of the RNs.
Just like the certification process of nursing aides, you must receive the proper training by enrolling in a state-approved medication aide program before you can take the certification exam. The certification exam for medication aides is just a multiple-choice knowledge test that is taken on a computer. You can find out more about their certification exam by following this link: http://www.dhp.virginia.gov/Forms/nursing/MedAide/Bulletin.pdf.
This is a town that is situated in Green County. It is the seat of the county. Stanardsville is included in the Charlottesville Metropolitan Statistical Area. This town was named after Robert Stanard, a benefactor who donated land for public use. According to the latest census, their total population had reached up to 476 people. It has a total area of approximately 0.3 sq miles and has a population density of 1,361.0 people per square mile.
Examples of health care centers and providers that you can find in the area include Madison Free Clinic Inc. (540) 948-3667, Jaba Senior Centers – Greene (434) 985-2047, and Greene Care Clinic (434) 985-7000. photo attribution: codnewsroom