Are you looking for programs that teach how to work as a nursing assistant in Sedro-Woolley, Washington? If so you can find the latest courses listed in detail below. Included in the list are only training facilities that have met state requirements.
Life Care Center of Skagit Valley
1462 West State Route 20,
Sedro Woolley, WA 98284
(360) 856-6867
Cascade Job Corps Center
P.O. Box 819,
Sedro Woolley, WA 98284
(360) 854-3400
Looking for a way to start working as a health care provider in Washington? Look no further since we have the career that you've been looking for. One of the best ways to jump-start a career in the field of health nowadays is to become a nurse aide.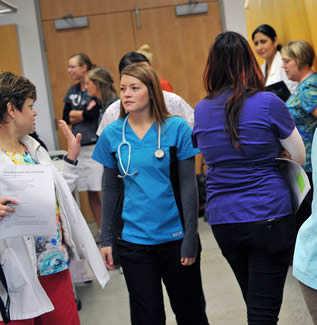 What's a nursing assistant?
Nurse aides are important members of the health care team. They help licensed nurses and other members of the health care team in providing and maintaining nursing and nursing-related services to patients who are in different health care settings. Nurse aides can be found working in almost any healthcare setting, including the patient's own home.
What are the job requirements of a Nurse Aide?
Nurse aides perform different basic nursing procedures that are delegated by nurses. Their job description is wide, and often involves tasks like bathing the patients, helping then go to the toilet, changing their diapers; help them eat, exercise, and ambulate. Persons who genuinely want to help others are best suited for this profession.
How do you become certified?
You can only work as a nursing assistant in this state if you have a CNA certification that's issued by the state's Department of Health. You can get one by successfully completing an approved training program and passing the certification exam.
Programs are offered by different institutions and schools. Approved programs consist of 35 hours of training and 50 hours of clinical practice. During the entire training period, students will be handled by a CNA instructor with at least 2 years of nursing experiences working in a long-term care facility. It can take you from about 2 to 6 months to complete your training.
The certification exam in Washington is conducted with the help of Pearson VUE. It consists of a written/oral test and a skills evaluation exam. Both tests are conducted on the same day. Candidates must pass both tests to get a certification.
What's required to remain in good standing?
Once you get a certification you'll be allowed to work in any healthcare facility so long as you keep your certification active. If you want to improve your knowledge and skills, there are numerous advance training programs that you can enroll. You can also aim for a higher degree while you work in health care enabling you to earn more.
This city can be found in Skagit County. You can find this city about 65 miles north from Seattle.  It is a part of the Mount Vernon–Anacortes, Washington Metropolitan Statistical Area. Sedro-Woolley had a total population of 10,540 people during the 2010 census. It has a total area of approximately 3.4 sq miles, where almost all of it is land. Its population density is estimated to be 2,547.7/sq mile.
Examples of health care providers that are serving the city include Skagit Valley Medical Center, Breast Care Suite, Air Health Services, Skagit Regional Clinic – Sedro-Woolley, and many more. photo attribution: ufv