Patients have to be provided with passive range of motion exercises to elbow and wrist in order to stimulate blood flow in this area and to avoid any future health problem which may arise in the future.  A CNA must know how to provide this care effectively if he wishes to provide the best healthcare to the patient and in order to avoid injuring or damaging the patient.  Learning how to do this properly is also important for those who are just beginning their careers as a health care worker or to those who will be taking their certification exams.
In providing this care, it is important to take note of several minor details which are considered as important aspects of providing passive motion exercises.  The first thing that has to be done is to knock at the resident's room and to call out the name of the patient.  After this, introduce yourself to the patient and explain to them why you are there.  Provide the patient with a step-by-step description of how the whole process will be carried out in order to prevent any apprehension or anxiety as to what shall be done next.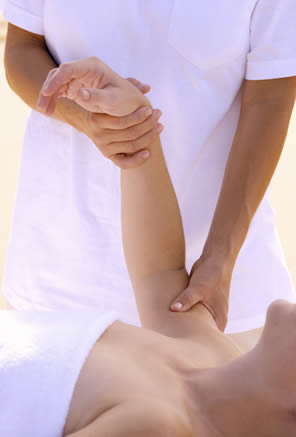 After all of these introductions, wash your hands thoroughly and wear the appropriate personal protective equipment for the proper handling of the patient.  Place the patient in a comfortable position and make sure that you have addressed their safety and privacy concerns.  It is important their preferences should also be taken into consideration when doing this process.  Support the patient's left or right extremity depending on which arm is to be exercised.  Bend and extend their elbows at the joints in order to provide flexion and extension exercises to the patient's arm.  Ask them if they are feeling any pain or discomfort during the process and make sure that you do not force or overextend the patient's extremities.
Next, move to the patient's wrist and slowly bend their wrist downward with their hands facing down and then backwards in order to provide flexion and hyperextension exercises to it.  This type of exercise will help to maintain the patient's wrist's flexibility and will also help to determine whether they have a problem in this area or not.  It is important that this process should be done slowly and in a non-forceful manner in order to prevent injuring or damaging the patient's wrist.
After all of this is done, return the patient to a comfortable position and ask them if they need any other help from you.  Ask them how they are feeling and place their call lights within their reach. Remove your personal protective equipment and then proceed to wash your hands thoroughly.  Tell the patient that the procedure is finished and that you are leaving the room.  It is important to keep the patient informed with the step-by-step procedure of this exercise and should also be asked for their preferences during the whole activity.  Provide them with the independence and the privacy that they need also.
Watch the video on how to provide passive range of motion (ROM) to the elbow and wrist: