Schools that teach the fundamental nurse aide skills required for certification in Poulsbo, Washington are shown on the list below. Instruction will offer the ability to practice using health care procedures, learn medical theory, and get lab experience to prepare you for testing.
Martha and Mary Health and Rehabilitation
19160 Front Street NE,
Poulsbo, WA 98370
(360) 779-7500
Training to become a nursing assistant-certified in Washington is a great way to jump-start a career as a healthcare professional. What makes this profession great? Well, let us take a look at the different advantages of becoming a nursing assistant.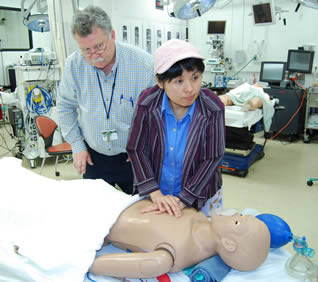 High Demand
The demand for nursing assistants is continuously on the rise. This increase in demand isn't just limited to Washington, but is occurring throughout the United States. You won't have problems looking for work once you become an NAC.
Quick and Easy Training
Unlike some careers, you don't have to spend years learning how to become a nursing assistant. Nursing assistant training in this state can be completed within 2 to 6 months, depending on the program you choose to enroll in.
Work as an CNA While You Train
If you can wait to get a certification, you can apply and become a Nursing Assistant-Registered. A facility is allowed to temporarily hire an individual to work as a nursing assistant so long as the individual is capable of providing nursing services. Nursing assistant-registered have 120 days to complete training program and pass the certification exam
Minimal Requirements to Become Certified
All you need to become a nursing assistant-certified is to complete a state-approved training program and pass the state's certification exam. During the process, you might have to undergo physical and medical examinations, as well as get fingerprinted for the national criminal background checks.
Work Anywhere You Want
Nursing assistants can be found working in almost all kinds of healthcare settings. This is one of the many reasons why they are so in demand. If you're moving to another state, you may transfer your certification and work there if the state accepts CNA Endorsement. Each state has its own requirements for endorsement. It would be best if you contact their Nurse Aide Registry and find out what those requirements are.
Easy to Climb Up the Career Ladder
There are constant opportunities to advance your career. You can also take up an advance training program to increase your knowledge and skills, as well as increase the chances of a promotion or a salary raise. A nursing assistant certification goes well with other entry-level professions such as medication aides and home health aides. The experience you get from being a nursing assistant can also be a great stepping stone if you want to become a nurse or an LPN.
This city is situated on Liberty Bay. It is a part of Kitsap County. It is considered as the 4th largest city in the county. The city was founded back in the 1880s by Jorgen Eliason, who was a Norwegian immigrant. According to the census of 2010, their total population was around 9,200. It has a total area of 3.8 sq miles and a population density of 2,121.5/sq mile.
Health care providers that are serving the city include Kitsap Urology Associates – Poulsbo, Heritage Health Center, North Kitsap Family Practice & Urgent Care, Pacific Surgery Center, Skidmore Karen DPM, Peninsula Community Health Services, and North Kitsap Pediatrics. photo attribution: umich-msis