The certified nurse aide training schools that are found in Pontotoc, Mississippi are listed for you in detail on this page. Enrollees who complete one of these state approved classes will become eligible to schedule a date for the license test.
Graceland Care Center of Pontotoc
278 West 8th Street, Pontotoc, MS 38863
(662) 489-6411
http://www.gracelandcarecenters.com/
Those who want to be certified to work as nurse aides will need to abide by several requirements. Primarily these are passing background screening, enrolling in a training course and passing the certification exams. Course must be approved by the registry to qualify for you to schedule an exam date once finished. During your course you will learn a variety of skills and procedures that are necessary for safely caring for others. You will be tested on many of these tasks during your two part license exams.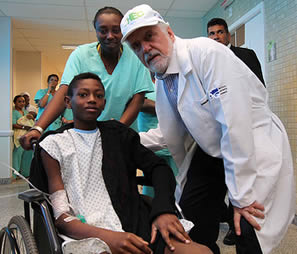 The only way for you to become a nursing assistant is if you schedule a test date and pass the state's license exams. By passing all the tests, your name will be entered on the NA Registry and you will be given your license. According to the law, all nursing assistants must be registered on the state's NA Registry.
CNA license holders from other states may also transfer and work in Mississippi by applying for reciprocity. When they apply, they will be asked to provide proof of their experience, education, and training. They will also be required to pass both the federal and state background checks.
Nursing assistant licenses for this state last only 2 years. In order to continue working in a nursing facility, the holder must renew it before it expires. The basic requirement when renewing is being able to show proof that the holder was able to work for at least 8 hours as a paid nursing assistant every 24 consecutive months.
Pontotoc is a city that is found in Pontotoc County. This city also serves as the county seat. You can find Pontotoc just west of the city of Tupelo. The name of this city was taken from a Chickasaw work that means "Land of Hanging Grapes". It has a total land area of 9.4 square miles and is also known as "the Little Broadway". As of the 2010 census, the total population of Pontotoc had reached 5,625 people.
Examples of the healthcare providers that are located within the area include Millcreek of Pontotoc, Magnolia Dental Clinic, Lindsay Clinic Pa, Acute Care Family Clinic, Friendship Medical Clinic, and many more.  With a number of healthcare centers, you will not have any problems looking for a place to work once you become a nursing assistant. photo attribution: agecombahia