Those in Petersburg, Virginia that are searching for nurse aide classes can find them listed here. For more information about their medical training programs available for enrollment, please call the number for one of the schools provided for you below.
Health Care Solutions
116 South Adams Street
Petersburg, VA 23803
(804) 732-7625
Petersburg Public Schools
3101 Johnson Rd.
Petersburg, VA 23805
(804) 862-7156
A certified nurse aide or CNA is one of the most in demand health care providers today. Nursing assistants work under the supervision of registered nurses. They help provide nursing and nursing-related care to patients who are in different health care settings such as hospitals, nursing homes, assisted living centers, rehabilitation centers, clinics, and even in the client's own home.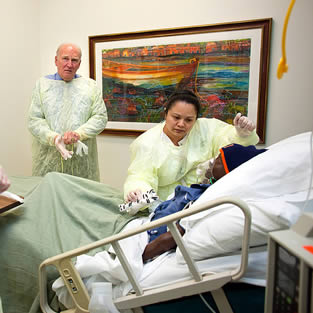 What are the requirements to be a CNA?
First of all, you must successfully complete a state-approved training program. The most common way of getting the training that you need is to enroll in a training program that is approved by the Board of Nursing. Completing an approved program will make you qualified to apply for the NNAAP exam.  Nursing students and graduates are also qualified to apply for the NNAAP exam if they wish to pursue a career as nurse aides.
Secondly, you need to get a certification by passing the National Nurse Aide Assessment Program Examination or NNAAP exam. This examination consists of a written/oral test and a skills evaluation exam. Only the candidates who will pass both tests will get a certification from the BON.
Does the state accept CNA Endorsement?
Yes, Virginia openly welcomes nurse aides who are certified in other states to transfer and work there. To qualify for endorsement, applicants must have a valid certification and a clean record. They must not have any accounts of patient abuse, neglect, or misappropriation of their property. Those who are interested can call the BON at (804) 367-4569 or email at nursebd@dhp.virginia.gov for more information regarding the endorsement process.
The Future of Certified Nurse Aides
Nursing aide is an entry-level profession. This means that the training is a lot quicker and easier compared to other careers. However, the education and training you receive as a nurse aide student can be used as a stepping stone when you want to aim for a higher degree.
Another great thing about getting a nurse aide certification is that it will open new training programs for you. Your CNA certification is only a basic one. You can enroll in an advanced training program to receive special training and a new certificate. Once you become an advance nurse aide, you will be allowed to perform advanced tasks and procedures while still under the supervision of a licensed nurse. Getting an advanced certification can increase the likelihood of getting a bigger salary from your employers.
This is an independent city that is located on the Appomattox River. You can also find this city about 23 miles south of Richmond. According to the census of 2010, their total population had reached up to a total of 32,420 people. It has a total area of approximately 23.2 sq miles and has a population density of 1,400/sq mile. This city was founded back on December 17, 1748 and was previously known as Peter's Point.
Examples of health care facilities that you can find within the city include United Family Services LLC, Adult Healthcare Solutions Inc., Taylor Starkewood Enterprises, Professional Healthcare, Appomattox Dialysis Petersburg, Medstat Inc., Appamattox Area Health and Wellness Center, Community Cardiology & Internal Medicine, and many more. photo attribution: codnewsroom