Personal care aides serve an important role giving assistance to the daily tasks of the elderly, people with chronic illness, individuals with mental disability, physically challenged clients, and hospice patients who are in different stages of recovery or rehabilitation. They take care of the clients who independently are not able to maintain proper nutrition, good hygiene, and have a clean living area.
These individuals are otherwise regarded as caregivers, homemakers, companions, or personal attendants. Personal care aides provide help in the homes of the clients, hospitals, hospice facilities, residential care facilities, senior centers, or adult day care centers. Working shifts of the aides differ however majority of the personal care aides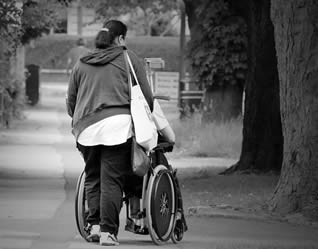 are anticipated to work during weekends, nights, and holidays.
It is expected from the personal care aide to perform the following tasks:
– Doing home management tasks like laundry, housekeeping, shopping, and other home errands
– Preparing and serving simple diets which are modified in accordance to the instruction
– Assisting the clients with feeding
– Providing assistance with bathing, grooming, and dressing
– Giving assistance with toileting like using the bedpan, toilet, or commode
– Assisting with both transfers and ambulation like using the cane, wheelchair, or walker
– Providing skin care routinely or giving assistance with the application of non-prescription topical medications to the surface of the skin
– Doing the collection of routine specimens
– Taking the weight of the clients
– Giving reminders to the patients regarding the home maintenance exercise programs
– Assisting to empty the indwelling catheter bag
– Providing assistance with reminders about the change of tubing or tank refill of the oxygen equipment
The personal care aides should have a current and valid PCA certificate or should go through the PCA training program. The required minimum age requirement is 18 years old. They may be required of some other things which are set by the state or employer. The aides may be required to learn the basics of the emergency and safety techniques. He or she might be required to cook based on the specified dietary restrictions.
The physical requirements as well as the working conditions for the personal care aides are as follows:
o Mental demands – the performance of the tasks is under the supervision of the registered nurse. The work will require the individual to adhere to the precise procedures having a high degree of accuracy for observing, recording, and reporting of data.
o Physical demands – the person must be able to work without restrictions as the job may require moderately heavy activities like lifting, constant stooping, and walking.
o Working environment – the individual should be able to adjust into the work settings for he or she may be exposed to different disagreeable physical conditions.
o Contacts – he or she must possess good communication skills.
The personal care aides do various tasks which are the same with the home health aides. But, they are not able to provide whatever type of medical service which can be done by the home health aides.