It is important to help exercise a patient's passive range of motion especially when they do not spend a lot of time outdoors or getting physically active.  These motions serve to provide a sort of physical exercise for the patient and they help keep their blood circulation to function properly as well as prevent any infection which may be caused by being sedentary or confined to the bed for extended periods of time. Through these checks as well, you will be able to assess just how slow or fast the patient is recovering from their illness.
The first thing that you have to do when you are about to administer these checks on a patient is to knock on the patient's door and greet them by their name.  Introduce yourself to the patient and explain to them why you are there at that time. It is important that you do not try to invade the patient's privacy by entering the room without their permission or without calling out their name first.  It can cause some degree of anxiety to the patient especially if they are not familiar with you.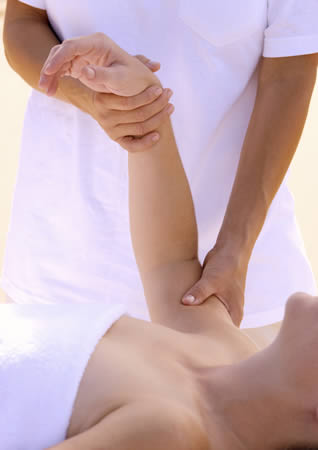 Next, you have to place the patient on a position which will make them easily accessible to you and this can be accomplished in a variety of forms: the high-Fowler position, the supine position, and the semi-Fowler position.  Whichever of these positions are comfortable to your patient should be the one adapted.
After getting them into their desired position, start checking the patient's range of motion starting with the head.  Ask them to move their head from left to right and up and down.  You should take note however whether your patient is suffering from a head or spinal injury before asking them to do so.
Next, move to the patient's arms. Ask them to extend and contract their arms moving forward and bending them at the elbow joints.  Let them do this for a couple of times and then proceed to having them to bring their arms towards their body and to do this in a way that their arms would be crossed in front of them.
After this, tell them to move their wrists and fingers and to flex and move them in the most convenient manner.  Then, ask them to move their knees and extend them and then bring them back again near to their body.  Ask them to do this for at least ten times before proceeding.
The last thing to check on a patient's passive range of motion is their feet and ankle movement.  Ask them to move and twist their ankles and toes in a way that is most convenient to them going left and right to make sure that they maintain a healthy range of motion.  This check usually should be done about two to three times daily and can be incorporated with other CNA tasks such as dressing.  You need to make sure that you do this regularly to avoid letting the patient have stiff joints and muscles.
You can visit this page to learn more about providing ROM exercises to the hip, leg, and ankle, or visit this page to learn more about providing ROM for one shoulder.