The college courses located in Palos Hills, Illinois  that are shown on this page offer the most recent certified nursing assistant classes that are open to the public. Call the phone number for the school to get details about enrollment options, cost of instruction, curriculum requirements, and class schedules.
Moraine Valley Community College
9000 West College Pkwy., Palos Hills, IL 60465
(708) 974-4300
http://www.morainevalley.edu/
There are several different requirements for you do comply with if you want to become a nursing aide in Illinois. Among them the most important are the completion of a state-certified program and passing the background checks that are done at federal and state levels. Without these two, you will not be allowed to proceed and take the license exams. Passing the exams is a necessary step since only those who passed the exams are allowed to work in a healthcare setting as a nursing aide.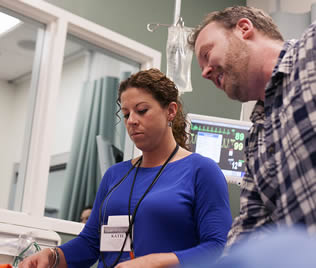 The license exams for this state are composed of a written and a skills demonstration exam. All of the test will cover the different concepts that you learned during your training. Out of all the nursing skills that were taught, only a selected few will be asked to be performed in front of a Nurse Aide Evaluator. In order for you to get your name entered in the state's online registry, you have to pass all the exams. Aside from the completion of a CNA program, there are also other means for you to become eligible for the exams. Those who took up nursing courses are also allowed to take the exams if they covered the basic concepts and had at least 40 hours of clinical experience during their training. For more information, you can follow this link: http://www.idph.state.il.us/nar/cnafacts.htm.
You can learn more about requirements in this state by calling the Illinois Department of Public Health at 217-785-5133. The help desk is accessable M-F 8:30 a.m. – 5 p.m. They can also be reached  by email at DPH.HCWR@Illinois.gov.
This city is a part of Cook County. It is a southwestern suburb of Chicago. According to the last census that was taken there, their total population was around 17,665 people. Its population density was an estimated number of 4,200/sq miles. The total area of the city is approximately 4.2 sq miles, where all of it is land.
Examples of health care center and providers that are available include Hedges Clinic, SC, PCS Healthcare Consultants Inc., Fidelity Health Care Inc., Metropolitan Family Services, Prestige Health Care Services of Illinois, Mokena Family Physicians, Calumet Dermatology Associates, Advanced Vein Treatment and Cosmetic Center, Laser And Cosmetic Dermatology, Novak Family Medical Center, Prairie Medical Physicians Group, Palos Hills Medical Center Sc, and House Call Physicians LLC. photo attribution: codnewsroom