All the nursing assistant classes that are currently open for enrollment in Oxford, Mississippi are shown to you in detail on this page. If you have any questions about them, you can call them during working hours with the number provided below their centers' names.
Northwest Mississippi Community College Lafayette-Yalobusha Center
1310 Belk Avenue, Oxford, MS 38655
(662) 236-2023
http://www.northwestms.edu/web/
When you want to become a nursing assistant, you will need to take the license exams first. Before you are able to do this, you will need to become eligible to apply for it by completing a state-approved training program. It will take you 6 weeks to finish a program that is approved by Mississippi. After you complete your training, you can then ask your training program for an application form.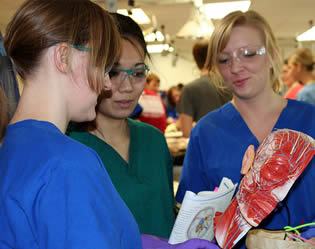 A few days after the NACES receive your application, you will receive their authorization to take the exams and the date you are scheduled to take them. During that day, you must arrive 30 minutes before the scheduled date. If you are late for the written exams, you will no longer be allowed to take it and your fees will not be refunded.
If you are not able to take the exam on your scheduled date, you must inform the NACES 5 working days before hand. If you do not call and inform them, and you are still unable to attend the exam date, you will not be given a refund. If you are able to do so, you may take the exam on a later date without any penalty fees. For questions regarding the examinations you can contact Pearson Vue at 1-888-204-6213. If you want to learn more about certification you can call the Mississippi State Department of Health at 601-364-1100.
The city of Oxford is the county seat of Lafayette County. It was founded back in 1837 and has been nicknamed as "The Oak". According to the 2010 census, the total population of the city has risen to 18,916. This city has a total area of 10 square miles, where all of it is land. Oxford has been named as one of the top six college towns in the country by USA Today.
This city is mainly served by the Baptist Memorial Hospital- North Mississippi and the North Mississippi Regional Center. Other healthcare facilities in the area include Rayner Eye Clinic, Toccopola Family Medical Clnc, Oxford After Hours Clinic, North Mississippi Family Med, Clinic At Walmart, Communicare Inc., White Oak Family Medicine Clinic, Sims Murphy Clinic, and Urgent Care Clinic of Oxford. photo attribution: iubmedicalsciences