Listed on this page are all the certified nursing assistant schools that are offering instruction in Owensboro, Kentucky as of the making of this page. Enrolling in any one of the programs below is the first step in becoming a certified nursing aide. If you have any questions regarding their training, feel free to contact the number provided along with every faculty listed here.
Bon Harbor Nursing & Rehabilitation Center
2420, West 3rd Street,
Owensboro, KY 42301
(270) 685-3141
Fax: (270) 684-4867
Owensboro is a 2nd-class city in Daviess County. It is also currently the county seat and the 4th most populated city in the state. You can find this city about 107 miles southwest of Louisville, KY. It was originally settled back in 1797; and was established as Owensborough in 1817. With a population of 58,083 people and the city's top employer being the Owensboro Medical Health System Hospital, this city is an excellent place to train and become a nursing aide.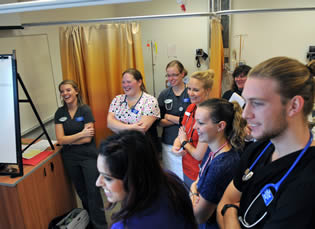 The federal and state requires nursing aides to be certified to work in a Medicaid nursing facility. Getting certified will mean that you will have to meet several different requirements. Most of the requirements, however, can be met within a few weeks. The certification process in Kentucky involves completing a state-certified CNA class, clearing the criminal background checks, and passing the state license exam.
Background Checks for Criminal Records
All candidates are required to undergo the background checks with fingerprinting. You can't get certified as a nursing aide if you have been convicted of felony offenses that involved theft; abuse or sale of illegal substances; abuse; neglect; sexual crimes; or exploitation of an adult. Some training facilities require applicants to provide these results during enrollment.
Getting Nursing Aide Training
CNA classes always consist of both theoretical course work and practical training. The state complies with the   OBRA regulations that require training programs to offer no less than 75 hours of classroom/lab instructions and 16 hours of supervised practical training. During the entire course of the training, students will be handled by a qualified instructor who completed the Train-the-Trainer course. Students are not allowed to perform any procedure without the presence or knowledge of their instructor.
The License/Competency Exam
A candidate can only gain entry into the Nurse Aide Registry and get certified by passing the competency exam. To satisfactorily pass the evaluation, an aspiring candidate must:
•     Get a score of at least 70% of the 75-item multiple-choice exams. Candidates can request to take an oral exam if they have trouble reading;
•    Pass the skills evaluation exam. In this portion, candidates must demonstrate, with at least 70% competency, five (5) randomly selected nursing skills/procedures in front of a CNA evaluator.
Maintaining Your Status as a CNA
The State's Nurse Aide Registry requires all CNAs to renew their certification every 2 years. The expiration of a certification will always fall on the last day of the month (2 years after) the certification was issued. To qualify for renewal, a candidate must provide proof of paid employment for at least 8 hours. You can get more information by following this link: http://www.kbn.ky.gov/knar/renewals.htm.
If you work as a private nurse aide, you'll need to obtain a notarized letter from the person who is in charge of the person you are caring for. The letter must include all of the following:
a.    Nursing Aide Duties Performed
b.    Dates of Employment
c.    Proof of Payment
d.    Full name, contact number, and address of the individual or family member who hired the nursing aide.
The letter must be sent for the nursing aide to qualify for renewal:
–    Full name of CNA
–    Social Security Number or CNA Number
–    Date of Birth
–    Current Mailing Address
photo attribution: ufv