Below are classes found in Olympia, Washington that show one how to work as a nursing assistant. Training will prepare students for the examination for certification and provide primary health care skills and knowledge needed on the job.
South Puget Sound Community College
2011 Mottman Road SW,
Olympia, WA 98512
(360) 754-7711
Simmons and Holliday
2103 Harrison Ave.,
Olympia, WA 98502
(360) 481-7049
Among the different ways you can enter the field of health, the one of the best ways is to become a nursing aide. Nursing aides work under the watchful eyes of registered nurses. They are entry-level professionals who help provide and maintain nursing care to patients in different healthcare settings, including the patient's own home. They are currently one of the most in demand health care professionals in the United States.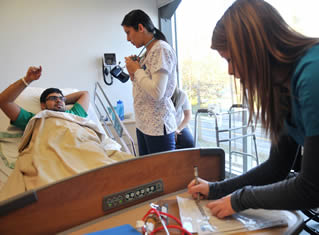 How to become certified?
You can only work as a full-time nursing aide if your name is on the state's Nurse Aide Registry and if you have an NA Certification. If you had never been certified before, then the only way for you to gain entry into the NAR is by passing the competency exam. Only persons who completed an approved training program can apply and take the competency exam. Luckily, there are several ways to establish your eligibility for the competency exam.
The most common way of establishing eligibility is by completing an approved CNA program. These programs offer 35 hours of lectures and 50 hours of supervised clinical practice. They are offered by different facilities across the state. It can take you from about 8 to 24 weeks to complete their program. You can also establish eligibility by completing one semester of nursing school, train in the military as a medic or corpsman, or complete other healthcare training courses that are offered within Washington.
The Competency Exam
The competency exam is properly known as the National Nurse Aide Assessment Program Examination or NNAAP exam. It was developed to test the competency of all nursing aide candidates in the United States. It comprises of a multiple-choice knowledge test and a skills evaluation exam.  A candidate must pass both tests to get into the NAR. Once in the NAR, the candidate can then apply for a DOH-issued NA Certification.
What's next after getting on the registry?
If you're happy with your current employment status, then all you need is to work for at least 8 hours as a paid nursing aide every year to qualify for renewal. No CNA is allowed to work with an expired certification. An expired certification can only be reactivated by taking the competency exam once again. If you let your certification expire for more than2 years, then you'll have to retrain and retests to work as a nursing aide again.
If you want to further your knowledge and skills as a nursing aide, then there is a number of advance training programs that you can choose to enroll in. This will help you climb up the career ladder or at least get a raise in salary.
This city is the county seat of Thurston County. It is also the capital city of the state. Olympia is also known as Oly or O Town. According to the census of 2010, their total population had reached up to 46,478 people. It has a total area of 18.5 sq miles, where 1.8 square miles of it is water. Its population density is estimated to be 2,608.08/sq mile.
Health care centers that you can find in the area include Copper Moon Massage Therapy Inc., South Sound Pulmonary & Sleep Medicine, Urgent Care of Olympia, Westcare Clinic, Eastside Health Care Clinic, Pediatric Associates, McCowan & Associates Clinical Massage, and Children's Olympia. photo attribution: ufv