Institutions that offer certified nursing assistant classes in Olney, Illinois that are currently available for sign-up are shown in detail below. For more information about the cost to enroll, program curriculum or class schedules, please call the phone number provided below.
Olney Central College
305 North West Street,
Olney, IL 62450
(618) 395-7777
http://www.iecc.edu/occ/
To become a nursing assistant, you must first enroll in a CNA training program. These programs will equip you and any aspiring nursing assistant with the necessary knowledge and skills to handle different patients with different conditions and needs. These programs are offered by different institutions like colleges, high schools, and certain healthcare centers. Depending on the program you want to enroll in, it will take you an average of 8 to 24 weeks to complete your training. Classes need to offer hands-on practical experience learning frequently used health care skills in a medical/long-term care facility environment.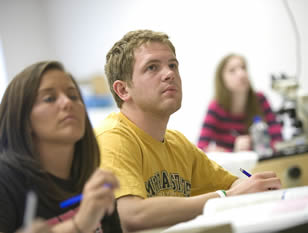 By completing a state-approved program, you will become eligible to apply for the license exams. Taking the exams is a must step because if you pass your name will be entered in the state's online registry. The state of Illinois does not allow any nursing aide to work in a healthcare facility if their name is not in the registry with an active status. The license exams for this state are composed of two parts, a written and a skills demonstration exam. You will need to pass all the exams if you want your name to be entered. All applicants are allowed to retake the exams twice. If you fail for the third time, you must then undergo retraining. Those that finished their certification training from another state will have to apply for reciprocity. Once they apply, they will need to present several documents showing evidence of their schooling. You can call the help department to learn more about how to qualify by dialing 217-785-5133.
This city is the county seat of Richland County. This city became the county seat back in 1841 due to its donation of land and the location of the city. The city was named by Judge Aaron Shaw. He got the name Olney after his friend Nathan Olney. This city was incorporated as a village only in 1848. According to the last census, their total population was around 8,631 and has a population density of 1,498.4 / sq mile. The city has a total area of approximately 5.8 sq mile.
Health care facilities and providers that are located in the city include Family Counseling Center of Richland County, Richland Memorial Home Health Services, Jennings Pharmacy, Richland Memorial Hospital – Center, Weber Medical Clinic, Arbors Center, Olney Medical Clinic MD, and Family Practice Associates. photo attribution: murraystateuniversity