Occupational therapy assistants work directly with patients of various ages in helping them for the growth and development of positive skills, rehabilitation following an injury, management of multitude of chronic illnesses or conditions, and improvement of quality of life. They work under the supervision of an occupational therapist
With the collaboration of the occupational therapists, the occupational therapy assistants develop the treatment plans for the patients that include the activities as well as exercises for rehabilitation. The occupational therapist does the diagnosing while the assistants are the ones responsible to work directly with the patients for the achievement of the goals for treatment.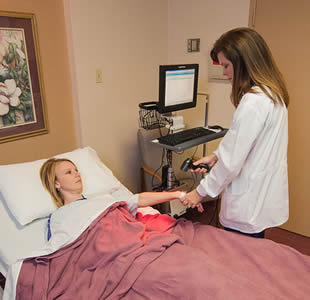 The work environment of occupational therapy assistants includes the offices of the occupational therapies, hospitals, or nursing care facilities. They work for about forty hours or more each week and this may include working on weekends, early morning, or early evening.
The work has physical demands because occupational therapy assistants will be helping the clients in the performance of their exercises all throughout the day and this may include giving support to patient weight, bending, lifting, and stooping.
The job duties of occupational therapy assistants include the following:

• Verification of the information of the client by doing an interview, recording the medical history, and confirming the treatment purpose
• Helping the clients for the improvement of quality life by means of helping them in the compensation of limitations like helping the injured individuals with the improvement of motor skills as well as teaching the clients with learning disabilities in the preparation of meals or usage of public transportation
• Following the plan of treatment which is developed collaboratively with the occupational therapist and this can be done by teaching the methods of transfer from bed into the wheelchair, stretching the muscles, monitoring the activities that need to be done in the correct way, and providing encouragement
• Maintaining records and recording the progress of the clients
• Maintaining a secure and healthy work environment
• Keeping the supplies ready
• Keeping the equipment ready for use by troubleshooting breakdowns and calling for repairs
The requirements for becoming an occupational therapy assistant include the following:
– Education – the minimum requirement for education is two years for the associate degree. It is important that the degree program is accredited by the American Occupational Therapy Association. The courses differ according to the school however they generally will include psychology, biology, kinesiology, and a wide array of occupational therapy courses.
– Training – usually, the school granting the associate degrees provide a formal practicum with the supervision of the licensed occupational therapist. In cases wherein it is not part of the curriculum, the students can do arrangements to have separate supervised training. The minimum length of time for field work is about eight weeks.
– Licensing or Certification – the individuals need to take and pass the Certified Occupational Therapist Assistant examination.
– Skills and qualities – they must have good physical fitness. They too must be patient and compassionate. A good communication skill is essential for the interaction with their clients.