Those who reside in the area around Oak Harbor, Washington that want to enroll in nurse aide classes can find them below. Signing up for instruction and completing the required hours will entitle you to take the tests for certification.
Skagit Valley College Whidbey Island Campus
1900 SE Pioneer Way,
Oak Harbor, WA 98277
(360) 679-5323
Training to become a nursing assistant in Washington can be one of the best career choices that you can make. Nursing assistants are very in demand in the state, which makes it easier to look for work.  Aside from that, you don't need to spend years of training before you can start work as one. All you need to work as a full-time nursing assistant is to complete a state-approved training program and pass the competency exam, which can take only less than 6 months.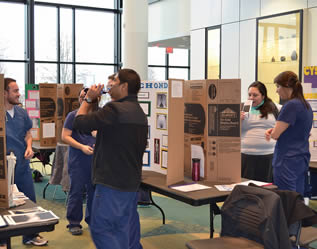 Nursing Assistant Training Programs in Washington are required to offer at least 85 hours of training. These hours are divided into 35 hours of lectures and 50 hours of supervised clinical practice. During the entire training program, students are handled by a qualified clinical instructor. They will learn about infection control, mental health, medical terminologies, nutrition, vital signs, personal care, and many more.
After completing your training, the next step is to apply for the National Nurse Aide Assessment Program Examination or NNAAP exam. This exam is conducted with the help of Pearson VUE at approved testing centers. It consists of a multiple-choice knowledge test and a skill evaluation. Candidates must pass both tests to gain entry into the Nurse Aide Registry.
Once you're in the NAR, you'll be allowed to apply for a Nursing Assistant Certificate that's issued by the state's Department of Health. Your certificate will then arrive at your mailing address within 10 business days. This certificate means that you are now a nursing assistant-certified and are allowed to work full-time as an NAC in any healthcare facility.
If you want to start working as a nursing assistant, even without a certificate, then you'll need to apply to become a Nursing assistant-registered. Once you're a nursing assistant-registered, you'll be allowed to work in a nursing facility just like an NAC. However, you still have to complete an approved NATP and pass the NNAAP exam. You only have a maximum of 120 days to accomplish this.
Nursing assistant certificates, unlike some states, are only valid for one year. You must renew your certificate to keep your eligibility to work as an CNA. The state requires its holders to work for at least 8 hours as a paid nursing assistant to qualify for renewal.  You can renew your certificate by going online and visiting this link: http://www.doh.wa.gov/LicensesPermitsandCertificates/ProfessionsNewReneworUpdate/LicenseRenewals.aspx.
This city is on Whidbey Island. The island in turn is a part of Island County. The city was named after the Garry Oak trees that grown in the area. According to the census of 2010, their total population was around 22,075 in an area of 9.1 sq miles, where all of it is land. It has a population density of 2,175.0/sq mile.
Examples of health care providers that are serving the city include Rue & Primavera Occupational & Physical Therapy LLCIsland Mental Health, North Whidbey Comm Clinic, Affiliates In Mental Health, Whidbey Medical Clinic Pllc, and Homeplace Special Care Center At Oak Harbor. photo attribution: codnewsroom