We've compiled for you the entire nursing assistant training programs in Kemmerer, Wyoming that are allowed by the state's Board of Nursing to accept new students. Please contact any of the programs using the contact information provided below each program name.
Contact Details:
South Lincoln Nursing Center
711 Onyx Street,
Kemmerer, WY 83101
(307) 877-5717
Fax: (307) 877-3236
Email: eboley@southlincolnmedical.com
Name of Program and Physical Location:
WWCC Outreach-Kemmerer
20 Adaville Road,
Diamondville, WY
Contact Details:
Western Wyoming Community College
P.O. Box 428
Rock Springs, WY 82901
Phone: (307) 382-1801
Fax: (307) 382-7665
Email: methier@wwcc.cc.wy.us
A person who wishes to work as a nursing assistant or nursing aide in a Medicare/Medicaid long-term care center must be certified and listed on a state's Nurse Aide Registry. Employers are required to verify each applicant's certification and placement on the Registry before hiring them as permanent workers.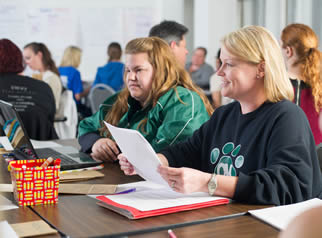 The certification process in Wyoming begins by enrolling in a state-approved training program. Certified programs will teach candidates how to meet the individual needs of each patient. Students are taught important nursing concepts and, at the same time, trained on various basic nursing procedures such as vital signs taking and assisting in the patient's activities of daily living. The state requires nursing aide training curriculum to last no less than 105 hours, which will be divided into classroom instructions and supervised clinical practice.
Candidates may submit the application forms (https://nursing-online.state.wy.us/Resources/CNA%20Exam%20App%2010-25-2013.pdf), for placement on the Wyoming State Nurse Aide Registry as soon as they complete their training. There is a $60 application fee that must be sent along with the forms. Once the NAR receives the forms, candidates must do the following as soon as possible:
•    Request for a DCI background check and pay the corresponding fee ($60),
•    Apply and schedule for an NNAAP exam testing date.
The NAR will hold a candidate's application for only one year after successful completion of training. A candidate's name shall only be entered on the registry if he or she manages to pass both tests of the NNAAP exams and clear the background checks.
The exams consist of a knowledge test and a random skills evaluation. Applicants have the choice to take the knowledge exam as either a written or oral examination. There is a $98 fee for both tests that must be made payable to the American Red Cross.  Remember to place all requirements in one envelope before submitting them to:
American Red Cross/ Wyoming NNAAP
1804 North 6th Street,
Harrisburg, PA 17102
NNAAP exam applicants are allowed to apply and take the exams up to 5 times within 12 months after completing their training. Applicants who failed may reschedule for another attempt by submitting the application forms, their failing score reports, and the appropriate fees to the ARC.
CNA certifications in Wyoming are only valid for up to two years. Unlike most states, all  certifications, regardless of when it was issued, will expire on the 31st of December of every even year. No certified nursing aide is allowed to continue working once his or her certification has expired. You can keep your eligibility to work by renewing your certification on time. There is a $50 renewal fee and an additional $35 if you renewed late.  You can call the Licensing/Examination Coordinators at (307) 777-7601 if you wish to obtain a recertification information packet.
More about Kemmerer, WY
Kemmerer is both the largest city and the current county seat of Lincoln County. It has a total area of 7.81 square miles, where almost all of it is land. According to the census of 2012, the total population of the city was about 2,636 people. Around 41.8% of the total population is made up of individuals who are aged from 45 and above.
Part of the requirements for recertification in this state is to work a minimum of 16 hours as a paid CNA and complete 24 hours of in-service training in a certified health care facility. Examples of the health care settings where you can meet the requirements include the South Lincoln Medical Center, south Lincoln Nursing Center, Uinta Urgent care, and many more. photo attribution: tamuc