The nursing assistant training in Titusville, Florida that are shown on this page offer the most up to date classes that are open for enrollment at this time. For more information about instruction in this city, just call one of the facility phone number provided.
Brevard Community College
1311 North US 1
Titusville, FL 32796
(321) 632-1111
Brevard Community College at Astronaut High School
800 War Eagle Blvd.
Titusvill, Florida 32796
(321) 264-3000
Brevard Community College at Titusville High School
150 Terrier Trail
Titusvill, FL 32780
(321) 264-3100
(Multiple classes are being offered)
Titusville Nurse Assistant Training School
1705 Jess Parrish Court
Titusville, Florida 32796
(321) 269-5720
Vista Manor Nurse Aide Program
1550 Jess Parrish Court
Titusville, FL 32796
(407) 269-2200
If you are planning on entering the medical field, then you should consider becoming a nurse aide. Being a nurse aide in Florida is one of the best places where you can start this type of career because of its high demand. Like other states, you must first undergo the proper education and training before you will be allowed to handle patients.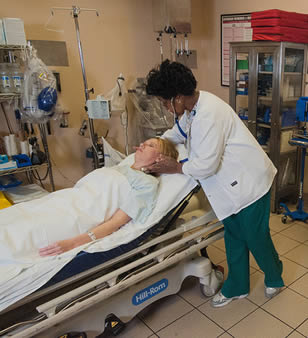 You must receive your training from a state-approved CNA training program. You can find that these programs are being offered by colleges, high schools, nursing homes, and other institutions. To complete a program, you must have at least 75 hours of classes and 100 hours of clinical experience. To be enrolled in these programs, you must be able to read and write, and be at least 18 years old. During your training, you will be taught in different skills that will be used in taking care of the patients like catheter care, vital signs taking, bed baths, changing bed linens while the patients are still in the bed, assisting in ambulation, dressing, ROM exercises and other basic care skills. You will also be taught in the different concepts in the Fundamentals of Nursing.
After you complete your training, you can then apply for the license exams. You cannot work as a nurse aide without a CNA license. You must pass all tests in order to get your license. Keep in mind that the nurse aide licenses in this state expire every two years. It must be renewed before then. call the Florida Nursing Assistant Registry at (850)488-0595 to get up to date information about certification requirements and renewals.
This city is a part of Brevard County. It is also the county seat of the Brevard. The city has gotten the nickname Space City, USA. It is a principal city of the Palm Bay–Melbourne–Titusville Metropolitan Statistical Area. According to the census of 2010, their total population was around 43,761 people. Its total area is approximately 34.2 sq miles and a population density of 1,277.8/sq mile.
The Parrish Medical Center is the main hospital that is serving the city. Other health care centers that you can find in the area include Titusville Total Healthcare LLC, STD Test Express, Sovereign Healthcare of Titusville LLC, Ability Health Services Inc., Riverside Medical Center, AA Counseling, and many more. photo attribution: usdagov