The health care facilities offering certified nursing assistant training in Lombard, Illinois are shown below. The programs contained here are all licensed by the state registry and meet the requirements of the certification process.These classes are currently being offered as of the making of this post.
Healthcare Inservices
450 East 22nd Street, Lombard, IL 60148
(630) 620-1297
http://healthcareinservices.net/
There are several different ways for you to become a nursing assistant in the state of Illinois. One of the quickest and easiest ways is to enroll in a CNA training program. You can find these programs offered by different facilities all over the state such as technical colleges, community training centers, healthcare facilities like nursing homes, and high schools.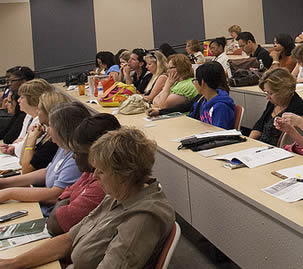 Depending on the program's schedule, you can complete your training in a matter of weeks. Certified training programs are required to offer a minimum of 40 hours of training. These training hours will be divided into classroom lectures and clinical skills training. Their students are also required to have some experience in the clinical area before they graduate. When they are in the clinical area, the student will be placed in the capable hands of a registered nurse.
After the completion of the training program, the graduate will then become eligible to apply for the competency exams. The exam is a two part test made up of a written competency portion and a manual skills portion. For those who had finished military training with courses that are very similar to the nursing assistant training program, they can also try to take the license exam. Every person can retake the examination for up to three times. After the third time, they will be asked to take a refresher course. If they pass, their name will be entered in the state's Nurse Aide Registry, where their potential employers can check their validity. Only those nursing assistants whose names are in the registry will be allowed to work in any healthcare facility.
This Chicago suburban village can be found in DuPage County. It is also known as "The Lilac Village". The earliest settlers that came to the area around the early 1830s. Major highways that you can access to get to this village include Interstates 88 and 355, and State Routes 38, 53, and 56. According to the census of 2004, their total population was around 42,322 residents. It has a total area of about 9.7 sq miles and a population density of 4,400/sq mile.
Health care centers that are found in the city include Doctors Immediate Care-Lombard, Elmhurst Memorial Health Center, DuPage Medical, National University of Health Sciences, Surgical Center of DuPage Medical Group, Fresenius Medical Care, Physicians Service Center Inc., DuPage Medical Plaza, Lilac Park Medical, Ravl Medical Group, GE Healthcare, and Classic Health Services Inc. photo attribution: codnewsroom