The nursing assistant training that is found in Biloxi, Mississippi and is available for enrollment is shown to you on the list below. Classes have been authorized by the state registry and will allow you to take the exams for your certification upon completion. To find out more about these programs, you can contact them with the number provided.
Biloxi High School Career Technology Center
1845 Richard Drive,
Biloxi, MS 39532
(228) 435-6105
www.biloxischools.net/
If you want to work as a nursing aide, you will need to get a CNA certificate. This is only given to those who were able to meet the testing and training requirements of both the Federal and State. For the training portion, programs that are offered in the state last for only up to 6 weeks. You will need to complete 130 hours of training, which are divided into classroom lectures, laboratory work, and clinical duties.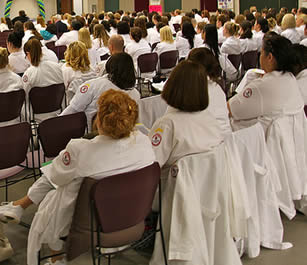 After you complete your training, you can then proceed to take on the license examinations, which are offered by Pearson Vue. The exams are composed of two parts; a written/exam and a skills evaluation on the nursing skills that you learned in the program. The first part of the exam will be composed of 70 items. As for the skills evaluation, out of all the skills that you were taught you will be given 25 minutes to do 5 randomly selected skills. You must pass all the tests to get your name certificate.
It is not enough to get your name on the NA Registry and have your certificate. To be able to work, you must also have an active status on the Registry. Nursing aide certificates are only valid for up to 24 months. To continue your work, you will have to renew it. Your status will be kept active if you were able to work for at least 8 hours as a paid nurse aide every 24 consecutive months.
The city of Biloxi, along with its adjoining city of Gulfport, it serves as the county seat of Harrison County. Biloxi is also known as "The Playground of the South, Buck City, and The Promise Land". This city has a total population of 44,054 and a total area of 46.5 square miles, making it the 5th largest city in the state of Mississippi. The main highway to get to the city is the U.S. Highway 90. Interstate 10 also passes through the northern sections of Biloxi.
Because of its huge population, there are also a great number of healthcare providers that can be found in the city. Examples of some include Biloxi Family Clinic, Biloxi Ob Gyn Clinic, Whole Health Chiro Wellness, Immediate Family Clinic, Fresenius Medical Care, Gulf Oak Hospital, Urgentcare Urgicare., Anesthesia & Pain Control Inc., Multi Care Pain Management, Cedar Lake Surgery Center, and Long Chiropractic. photo attribution: germannacommunitycollege