The training facilities offering nursing assistant instruction in Bremerton, Washington can be seen listed below. Students who enroll will learn an assortment of medical skills in the classroom and in a health care setting. To receive further details about the courses provided, please speak to a representative.
West Sound Vocational Skills Center
101 National Avenue North,
Bremerton, WA 98312
(360) 478-5093
Olympic College
1600 Chester Ave.,
Bremerton, WA 98337
(360) 475-7764
Working as a healthcare provider can be rewarding and fulfilling. This job is best suited for individuals who genuinely want to take care of other people. An excellent way of starting a career as a healthcare provider is to become a nursing assistant-certified.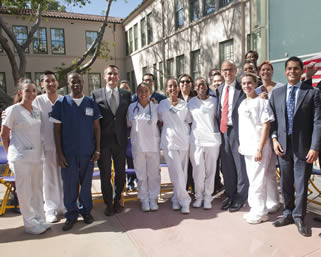 Nursing Assistant-Certified
This is a trained person who helps licensed nurses provide and maintain nursing care to patients. Nursing assistants can be found working in almost any healthcare setting, including in the patient's very own home.
Nursing Assistant-Certified Tasks
The tasks that a nursing assistant does are based on what tasks are delegated by the nurses. They perform basic nursing care such as taking vital signs, as well as help patients with their daily activities such as bathing, toileting, dressing, exercising, cleaning their immediate environment, ambulating, and many more.
How do you become an NAC?
In order to become one you'll need to undergo training in a state-approved training program and then challenge the National Nurse Aide Assessment Program Examination. You'll also be required to undergo federal and state background checks; physical and medical examinations; as well as provide a copy of your transcript of records.
The National Nurse Aide Assessment Program Examination
This exam is divided into a multiple-choice knowledge test and a skills evaluation exam. Both tests are conducted on the same day with the help of Pearson VUE. The knowledge test is initially given as a written exam, but candidates who have trouble reading can request for an oral exam instead. Candidates must pass both tests to get into the state's Nurse Aide Registry and get a certified.
If a candidate fails, he is given another 2 attempts to pass both tests. When retaking the NNAAP exam, the candidate will only need to retake the test that he failed. If a candidate uses up all his attempts, then he will have to undergo retraining before he can reapply for the NNAAP exams once more.
What's next after getting a certification?
Once you have a certification, you'll be allowed to work in any healthcare facility in Washington. You'll need to work for at least 8 hours every year to qualify for renewing your certification. NAC certifications in Washington need to be renewed on or before your birthday every year. No individual is allowed to continue working once his certification expired.
If you want to improve your knowledge and skills as a nursing assistant, there are several advanced certifications that will allow you to perform new tasks, and gain new responsibilities. You could also get other certifications to increase your chances of climbing up the career ladder. You can follow this link:
http://www.doh.wa.gov/LicensesPermitsandCertificates/ProfessionsNewReneworUpdate/HealthcareProfessionalCredentialingRequirement.aspx, to check out the different healthcare professions there are in the state.
This city can be found in Kitsap County. It is considered as the largest city on the Olympic Peninsula. According to the 2011 census, their total population was at 38,790 people. It has a total area of approximately 26.0 sq miles and has a population density of 1,644.2/sq mile. The city was founded in the early 1890s and was named after entrepreneur William Bremer.
Health care centers that can be found within the city include Kitsap Foot & Ankle Clinic, Olympic Radiology, Meeks Thomas J DO – Olympic Plastic Surgery Center, Nephrology Associates of Kitsap County, Olympic Hematology & Oncology PLLC, Kitsap Cardiology Consultants, and many more. photo attribution: usdol