On this page are the recent Bothell, Washington facilities that offer nursing assistant training. These classes will provide vital medical skills practice, theory instruction and lab work to prepare you for the exams and the job.
Life Care Center of Bothell
707 228th Street SW,
Bothell, WA 98021
(425) 481-8500
Receiving NA training is the first step in becoming a certified nursing aide. You'll need to be well prepared to meet the individual needs of each patient. Attending a state-approved NATP will provide you with all you need to know to be a competent nursing aide.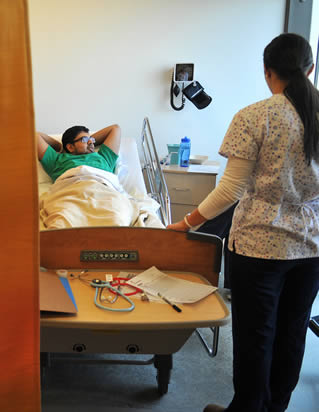 The state's NATPs are approved and monitored by the state's Department of Social and Health Services. They are required by the DSHS to offer a minimum of 85 training hours. These hours must be divided into 35 hours of classroom lectures and 50 hours of supervised practical training. Both theory and practical training are taught at the same time. Every program must be headed by a licensed nurse with at least 2 years of nursing experiences working in a long-term care facility.
Once you complete your training you'll be allowed to apply for the NNAAP exam. It's now time to test out your competency as a nursing aide candidate. The exam is divided into two parts – a written/oral test and a skills evaluation exam. Both tests are given on the same day at an approved testing facility. It is conducted with the help of Pearson VUE.
If you pass both tests within 3 attempts or within one year after completing your training (whichever comes first), then your name will be entered into the Nurse Aide Registry. As soon as it is entered you can then apply for a CNA certificate that's issued by the Department of Health. If you want to check your status on the Registry, you can call them at (360) 236-4700.
To keep your eligibility to work as a full-time nursing aide you must keep your certification active by renewing it every year. The state requires that a CNA must work for at least 8 hours under the supervision of a registered nurse. The state no longer requires the completion of continuing education. The expiration date of certifications in this state falls on the holder's date of birth. It is best to renew one's certification 4 to 6 weeks before the expiration date.
If your name is on the Nurse Aide Registry it is your responsibility to keep your record updated. Please inform the NAR if you ever change your name or address. Failing to inform them of the change can jeopardize your status on the NAR. There is no fee to update your status. For more information, please follow this link: http://www.doh.wa.gov/LicensesPermitsandCertificates/ProfessionsNewReneworUpdate/ChangeyourContactorAddressInformation.aspx.
This city is a part of both King and Snohomish Counties. It is also a part of the Seattle metropolitan area. Those that are a included in Snohomish County however are part of the Alderwood Manor-Bothell North census-designated place. According to the census of 2010, their total population was around 33,505 people. It has a total area of 12.1 sq miles and a population density of 2,772/sq mile.
The OncoGenex Pharmaceuticals, Alder Biopharmaceuticals, and Philips Medical Systems are some of the key companies that are situated in the city. Other health care providers that you can find there include A Primary Care Clinic For Adults, Balancing Health, TLC Dental, Lakeshore Clinic, Vibrant Health, and many more. photo attribution: ufv