The nursing assistant schools offering class instruction in Greencastle, Indiana are listed on this page.  Contact one of the facilities listed below to speak with a representative about how you can join their program to receive certification skills training to become eligible to take the license exams.
Asbury Towers Retirement Community, Inc.
102 West Poplar Street, Greencastle, IN 46135
(765) 653-5148
http://www.asburytowers.com/
Hickory Creek At Sunset
1109 South Indiana Street, Greencastle, IN 46135
(765) 653-3143
http://www.hickorycreekhealthcare.org/greencastle.asp
Area 30 Career Center
1 North Calbert Way, Suite A, Greencastle, IN 46135
(765) 653-3515
http://www.area30.k12.in.us/
The completion of a CNA training program is one of the most important steps in becoming a nursing aide. It is very important that before you are allowed to handle any patient, you have to first learn how to properly take care of them. You will learn different nursing skills such as assisting in bathing, dressing, feeding, ambulating, performing ROM exercises, as well as emergency procedures. It will take an average of 6 months to complete your training. You should remember to only enroll in one that is approved by the state. If you have enrolled in another nursing course and have gathered enough credits, you may also apply for the exams. You must have covered the different concepts of the Fundamentals of Nursing. You should also have at least 75 hours in clinical experience.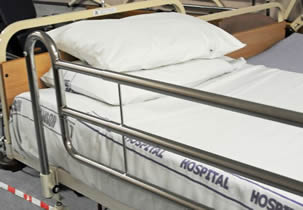 After you complete your training, the next step is to apply for the license exams. Taking and passing the exams is an important step since the state will not allow you to work in any healthcare facility if your name is not entered in the Nurse Aide Registry. To get your name entered, you will need to pass both the written exam and the skills evaluation. The tests are composed of two parts- an oral, or written part, and a practical skills applications part where you get to demonstrate a random set of nursing skills. Most of the exams will take you up to 1 hour to finish. There are additional requirements that must be completed before you can be certified. These are: having a criminal history check conducted, and completing a physical examination with Mantoux testing or chest Xray. Those who meet all requirements including passing an Indiana State Department of Health (ISDH) approved training program and passing the competency exams become certified and eligible to work as a nursing assistant. Once you meet all requirements and get your license, you will need to renew it every 2 years with at least 8 hours of experience within those two years.
Greencastle is the county seat of Putnam County. It is located in Greencastle Township. This city was founded back in 1821 by Ephraim Dukes, who was a Scots-Irish American. The town was named after Greencastle, Pennsylvania, which was his hometown. According to the 2010 census, their total population was around 10,326 people. It has a population density of 1,864/sq mile. The city has a total area of approximately 5.29 sq miles, where almost all of it is water.
Health care centers that you can avail in the city include Putman Women's Health Care, Acute Medical Care Inc., Hamilton Center Inc., Putnam Family Healthcare, Community Home Health Center, Cummins Behavioral Health Systems Inc. – Putnam County Out Patient Clinic, Mental Health America of Putnam County, Johnson Nichols Health Clinic, Legacy Healthcare Services, and Milestone Clubhouse/Cummins Mental Health Center.