The nursing assistant training programs that are located in Oak Forest, Illinois listed on this page offer the most up to date opportunities. For more information about how you can sign up for instruction, the cost of the training, program curriculum, or classroom schedules, please call the facility phone number provided below.
Cynda Training and Educational Center
14930 South Cicero Ave.,
Oak Forest, IL 60452
(708) 585-0505
Hearts Academy
15048 Cicero Ave.,
Oak Forest, IL 60452
(708) 535-9300
Before you are allowed to handle any patient as a nursing assistant, you must first get the proper education and training. You can get all of these when you enroll in a training program. To ensure that you will be eligible to apply for the CNA license exams afterwards, should only enroll in a program that is approved by the state. These programs can be found all across the state and are offered by different colleges, nursing homes, community training centers, and other educational institutions. Depending on the program you choose, it will take you and average of 6 months to finish a program. The minimum age requirement for enrolling in a program is 16 years old.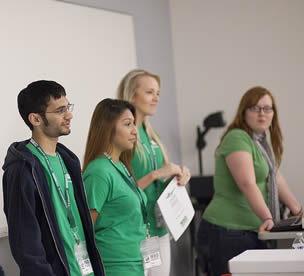 Once you become eligible, you will be able to submit your application for the license exams. The exam is two parts, consisting of a manual skills portion and a written competency part. Aside from the appropriate application form, you must also submit the results of your federal and state background checks. If you fail the background checks for criminal records, you will not be allowed to proceed and take the exams.
If you are nurse aide license holder from a different state, you are allowed to work in the state if you apply for reciprocity. When you apply, you should first make sure that your license status is still active or valid. Another important thing to have when applying for the reciprocity is a good relationship with the state you come from.
This suburban city can be found in Cook County. You can find it a few miles southwest of downtown Chicago. During the early 19th century, this city was originally known as Cooper's Grove. According to the last census that was taken there, their total population had reached a total of 28,051 people. It has a total area of about 5.7 square miles, where only 0.1 square mile of it is water. It has a population density of 4,965.4 people per square mile.
Health care facilities that you can find in the city include Hedges Clinic, SC, Gl Healthcare Inc., Samland South Healthcare, Harmony Health Center, Shay Healthcare, Royal Home Health Services Inc., Holistic Health Services, Mokena Family Physicians, Calumet Dermatology Associates, Oak Center For Sleep Disorders, Asthama & Allergic Diseases, and many more. Contact us if you know of any other certified programs that are being offered in Oak Forest that are not shown on this page and we will add them here. photo attribution: codnewsroom