You can find on this page all the current and up-to-date nursing assistant classes that are offered in Ethete, Wyoming as of the moment. Learn more about their training programs, such as schedules, tuition, admission requirements, and many more by using the contact information provided under each program.
WY Indian HS
638 Blue Sky Highway
Ethete, WY
Contact Information:
Fremont County BOCES
320 West Main Street,
3rd Floor
Riverton, WY 82501
Phone: (307) 856-2028
Fax: (307) 856-4058
Email: kbensonboces@gmail.com.
Enrolling into an approved CNA training program is the first step in becoming a certified nursing assistant. It is necessary that any person aspiring to become a nursing assistant learns how to properly meet the individual needs of each patient. Completing an approved program will not only provide you with the skills and knowledge needed to take care of the patients; they will also make you qualified to apply for the National Nurse Aide Assessment Program Exam (NNAAP Exams).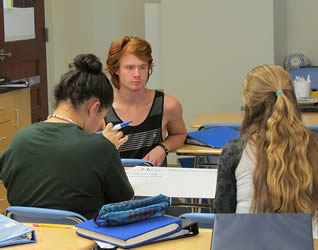 CNA training in Wyoming comprises of 105 training hours. All programs must consist of 75 hours of classroom/lab instructions and 16 hours of hands-on training. The training facility can allocate the remaining required hours as they want or even go beyond the required 105 hours. Both the theory and practical portion of the training program shall be done at the same time.
All students are required to complete 16 hours learning the following concepts prior to handling any patient:
•    Infection Control
•    Basic Nursing Care
•    Communication and Interpersonal Skills
•    Safety and Emergency Procedures
•    Patients' Rights and Independence
•    Medical Terminologies
Upon completing an approved training program, the Wyoming State Board of Nursing (WSBN) will receive a notice of completion from your training facility.  The NAR will then issue a temporary certificate which will allow nursing assistants to work for up to 120 days or 4 months. Within the time, they must:
•    Submit the application to the WSBN as soon as possible.
•    Provide complete fingerprints and pay $60 for the criminal background checks.
Candidates are given one year to pass both parts of the NNAAP exams. The NNAAP exams are composed of a multiple-choice knowledge test and a random skills evaluation, which are both taken on the same day. Every candidate is given up to five (5) attempts within the one year period to pass. Application for the exams and a placement for the WY-NAR are separate. Applications for the exams are processed and scheduled by the American Red Cross; all applications must be sent to:
American Red Cross/Wyoming NNAAP
1804 North 6th Street,
Harrisburg, PA 17102
Another way of getting placed on the NAR is by applying for endorsement. This process is only for nursing assistants who are already in another state's Nurse Aide Registry and are able to maintain a clean record – not listed on the Abuse Registry. CNA Endorsement applicants must:
a)    Submit the WSBN placement application form (https://nursing-online.state.wy.us/Resources/CNA%20Exam%20App%2010-25-2013.pdf) and pay $60 for the application fee;
b)    Submit completed fingerprint cards and $60 for the DCI background check;
c)    Meet any of the required competencies under Section 12:
•    Work for at least 16 hours providing health care services while under the supervision of a registered nurse.
•    Successfully complete a training program that meets OBRA/CFR requirements and pass the Wyoming State Board of Nursing, Nursing Assistant exams within the last 2 years.
•    Successfully finish one (1) semester of an approved nursing program within the last 2 years.
You can obtain more information about Wyoming's CNA Endorsement process by calling the Department of Health Office of Healthcare Licensing and Survey at (307) 777-7123.
Ethete, Wyoming is a census-designated place that can be found in Fremont County. It has a total area of 32.4 square miles, all of which are land. According to the census of 2010, its total population was estimated to be around 1,553 people. If you feel that this CDP is a bit small for you, you can always work anywhere in the state or any other state that offers reciprocity. photo attribution: sterlingcollege