Schools offering certified nursing assistant programs that are located in East Moline, Illinois that are currently available as of the making of this post are shown in detail below. If you know of other state approved training classes that are being offered as of the moment, please contact us and we will add them to the page.
Black Hawk College at Rock Island High School
301 Ave. of the Cities,
East Moline, IL 61244
(309) 796-4800
http://www.bhc.edu/
United Township Area Career Center
1275 Ave. of Cities,
East Moline, IL 61244
(309) 752-1691
http://uths.net/
Among the different requirements of the state to become a nursing assistant, one of the most important is being able to pass a CNA program. These programs can be found scattered across the state and offered by different institutions. You can find them being offered by community colleges, training centers, high schools, and certain healthcare centers. You will need to complete a training program to become eligible to take on the CNA competency exams.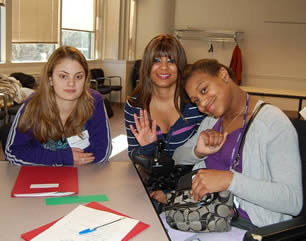 When you complete your training, you will need to send in your application form, which can be downloaded at www.idph.state.il.us/nar/home.htm. When applying, you will need to provide proof of your training as well as the results for the background checks. If you fail the background checks for criminal records, you will not be allowed to proceed and take the exams. The background checks will be done at both federal and state levels. These are done in order to protect the interest of the residents or patients. The nursing assistant certification test is made up of a written competency portion and a manual skills test. You can learn more about what is necessary to pass the exams and how to meet all the state requirements by calling 217-785-5133.
If you are a CNA license holder from a different state, you welcome to apply for reciprocity. When you apply, you must have a valid license and a good relationship with your state. All those who are applying for reciprocity will also be required to undergo the background checks. Having records like patient abuse or negligence can greatly affect your application.
This city can be found in Rock Island County. It is one of the Quad Cities that are found in the area. According to the 2010 census, their total population was around 21,302 people. It has a total area of 9.0 sq. miles, where all of it is land. Its population density is estimated to be around 2,348.2/sq. mile.
The Illini Hospital is the second largest company in the city of East Moline. Other health care centers and providers that you can find in the area include Pediatric Group Assoc. Sc, Good Samaritan Free Clinic, Stone Ridge Medical Group Sc, Trinity Express Care-East Moline, Deporter Stephen MD, DR Sujatha Govindaiah M.D., Trinity Iowa Health System, and many more. photo attribution: codnewsroom