The school programs in Dumfries, Virginia that teach how to work as a nursing assistant are shared here. These classes are open for enrollment and meet the Board of Nursing requirements. If you have any questions about the qualifications needed to become certified, please call the number provided below.
Gee's Career Training Institute
17323 Jefferson Davis Highway
Dumfries, VA 22026
(703) 221-9000
The best way to start a career in the field of health is to become a nursing assistant. Nursing assistants are entry-level professionals who work under the care of licensed nurses. Compared to other careers, you can become a nursing assistant much faster at a fraction of the cost.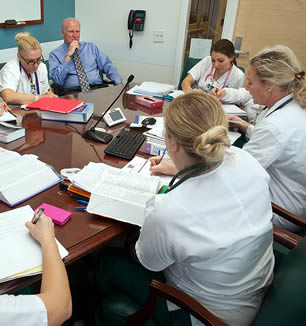 To work as a nursing assistant in a state-approved nursing facility, you must gain entry into the Nurse Aide Registry and get a CNA certification. The best way to do this is to challenge the National Nurse Aide Assessment Program examination or NNAAP exam.  This examination has two parts that consist of a 70 item written/oral test and a skills evaluation exam. You can only take the NNAAP exam if you successfully complete a state-certified training course.
CNA training courses are offered by different training facilities and schools throughout the state. You can easily find them offered through hospitals, nursing homes, community colleges, government organizations, assisted living centers, and even certain websites.
The state requires these courses to offer no less than 75 hours of training. Every training curriculum comprises of theory and clinical practice. Both the theory and clinical practice are taught at the same time. The courses must be headed by a registered nurse with enough nursing experiences working in a long-term care facility. Students are taught about concepts such as basic care, infection control, respecting the patient's rights and promoting their independence; safety and emergency care, and other related skills and topics.
Only candidates who are able to pass both parts of the NNAAP exam will gain entry into the NAR. This registry contains all the names of individuals who were able to meet the federal and state's training and testing requirements. Employers are required by the state to verify each applicant's certification and only hire those whose names are on the list.
Once your name is on the Registry, it will be your responsibility to keep your record clean and updated. Avoid jeopardizing your name on the Registry by informing the NAR if you change your name or address. You can email the NAR the Change of Address/Name form at nursebd@dhp.virginia.gov or go online and do it at www.license.dhp.virginia.gov.
This is a town that is a part of Prince William County. According to the latest census there, their total population had reached up to a total of 4,937. Dumfries has a total area of approximately 1.6 sq miles, where all of it is land. It has a population density of 3,085.6/sq mile.
Health care providers that you can find within this town include Virginia Urgent Care, Dovberg Foot Health Centers, Nextcare Urgent Care, Dumfries Clinic, Dumfries Family Medical Clinic, Primemed Urgent Care & Family Medicine, Montclair Internal Medicine and many more. photo attribution: codnewsroom