The nursing assistant training programs that are currently available for enrollment n Clinton, Mississippi and are approved by the state are found on this page. Classes will prepare applicants for taking the two part license exams and offer skills and theory instruction about basic health care procedures.
Trinity Mission Health and Rehabilitation
102 Woodchase Park Drive,
Clinton, MS 39056
(601) 924-7043
If you want to become a nursing aide in the state of Mississippi, then you will need to meet the Federal and State training and testing requirements. Becoming a nursing aide is currently one of the best ways for you to start your career in the medical field. This will also open new chances for you to get higher degrees once you get your CNA certificate.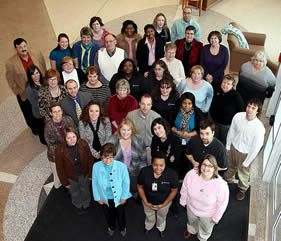 For the training, you will need to enroll in a 130-hour training program. The program must be approved by the state so that you will have no problems when you apply for the license exams. Your training will be composed of Theories and on-the-job training. The training programs will take 6 weeks to complete. You must be present in all training sessions in order to complete your 130 hours of training.
Once you are through with your training, the next step is to apply for the license exams. When applying, you will need to submit the completed application form, which you can get from your training program, and proof of your training. You will also need to send in a $101 money order to NACES for the testing fees. If you pass both the written/oral exam and the return demonstration, you will get your name on the Registry and your certificate. To speak to a state representative to learn more about requirements or to get answers to specific questions you can call the Mississippi State Department of Health at 601-364-1100.
The city of Clinton was founded back in 1823 originally as Mount Salus. It was only changed into its current name 5 years later in honor of DeWitt Clinton, who was a governor of New York. You can find this city in Hindus County. It is currently the 10th largest city in the state with a total population of 25,216 and a total area of 42.1 square miles.
With the high population of the city, it is not a surprise to find several different healthcare facilities in the city. Examples of these are Baptist Medical Clinic – Clinton, Genesis Personal Care, Jackson Eye Assoc PLLC, Clinton Family Care, New Insight Counseling, MEA Clinic, Taylor Chiropractic Inc., St. Dominic's Family Medicine, and Osborn Woody L DDS. photo attribution: germannacommunitycollege