The CNA classes in Warwick, Rhode Island can be found here. To find out more about enrolling in a state approved training program, you can call the phone number provided for you below.
Warwick Adult Learning Center
575 Centerville Road, Building 5,
Warwick, RI 02886
(401) 734-3156
Brentwood Nursing Home
4000 Post Road,
Warwick, RI 02886
(401) 884-8020
http://www.brentwoodnursinghome.com/
Warwick Career and Technical Center Health Occupation Program
575 Centerville Road,
Warwick, RI 02886
(401) 734-3150
To become a certified nurse aide in Rhode Island you will need to meet several requirements. One of the first that you will need to complete is enrolling in and completing an approved training program. CNA training programs will help prepare you for the different challenges and situations that you might encounter when you work in the health field. Approved programs consist of at least 100 hours of instructions, of which 20 hours are allocated for practical training in a certified nursing facility. As required by the state, no program lasts more than 90 days.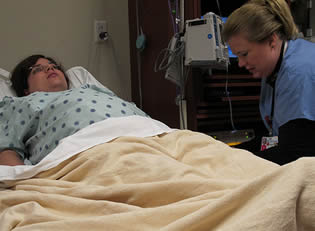 Once you complete your training, you will be allowed to apply for the certification competency exam. You need to prove to the federal and state that you are competent in both knowledge and skills in all things pertaining to nurse aides. The competency exam is divided into a knowledge test and a practical skills demonstration. Candidates can choose whether to take a written or oral exam for the first portion of the competency exam.
Only candidates who will pass both tests will be listed on the Nurse Aide Registry. If there are no technical problems, the exam results should be sent back within 10 minutes after faxing them for checking. If a candidate fails in any portion of the tests, he will have another 2 attempts to get certified. These attempts are only valid within one year after completing his or her training.
Only persons whose names are on the registry shall be allowed to work as full-time nurse aides. Employers will always check the names of their applicants before hiring them. If you wish to check your own status as a certified nurse aide, you may visit www.health.ri.gov/hsr/professions/license.php or call (401) 222-5888.
The Department of Health must be kept informed of your current name and address to receive important notices regarding your status as a certified nurse aide. Failure to inform the DOH may jeopardize your status on the registry.
If you changed your name or status, you must inform the DOH by sending a written notification. You can use the License Profile Change Form found on the department's website. You can also download a copy from www.pearsonvue.com. Name changes must be accompanied with valid documents like a marriage certificate or divorce certificate.
Certified nurse aides in Rhode Island must renew their certifications through the DOH to remain active and eligible to work in a certified nursing facility every 2 years. Nurse aides must work for at least 8 hours as a paid CNA while under the supervision of a licensed nurse to qualify for renewal.
This city can be found in Kent County. This city was founded back in 1642 by Samuel Gorton. With a total population of 82,672 people during the 2010 census and a total area of 49.62 sq miles, Warwick is the second biggest city in the state of Rhode Island. Out of the total area, 14.1 sq miles of it is water. It has a population density of an estimated number of 2,328.8/sq mile.
Health care providers that are found in the area include Homefront Health Care, Fresenius Medical Clinic, State Wide Health Services, Odyssey Health Care, Psychological Associates of Warwick, Ocean State Physical Therapy, Gateway Healthcare Complicated Grief, Child Neuropsychology & Learning Assessment, GBA Health Network Systems, and many more. photo attribution: timefornurses