The nursing assistant classes open for you to enroll in within the city of Twin Falls, Idaho are listed on this page. You can contact the school listed below to get the recent instructions on how to sign-up for training that will qualify you to take the certification exams and work in the state.  To get class schedule, or tuition costs, please call the phone number provided below.
College of Southern Idaho
315 Falls Ave.
Twin Falls, Idaho 83303
208-732-6701
Website: http://www.csi.edu/
To become a nursing assistant, you must be able to take the license exams and get your name entered in the state's Nurse Aide Registry. Before you are allowed to take the exams, you must first receive the proper training by enroll in in a nurse aide course that is approved by the state. These programs are offered by schools and training facilities all over the state. Depending on the program you select, it will take you an average of 2 to 6 months to complete your training. The breakdown of the class curriculum is a minimum of 80 hours of classroom instruction and 40 hours of experience in a health care setting.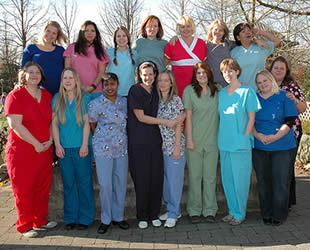 Upon completion of a training program, and after passing a background check you will be eligible to apply for the certification exam. When you apply, you will need to send in your completed application form along with the needed documents. You will need to send in ID photo, passport sized pictures, fingerprint cards, and payment for the exam fees. You must also have a negative TB test result and undergo immunizations to make sure that you are not carrying any communicable disease.
The nurse aide exams in this state are handled by Prometric. Their exams are composed of two parts, a written and a skills demonstration on the basic competency skills. You must pass all the tests to get your name entered in the state's registry. Once it is entered, you have to maintain this status to be able to apply for work as a nursing assistant in a nursing facility that you want.  For more information about the exams, you can call Prometric at (888) 843-2341
This city is the county seat of Twin Falls County. It is also the largest city in the county and in the state's Magic Valley region. It is a primary city on the Twin Falls, ID Micropolitan Statistical Area. According to the census of 2010, their total population was around 44,125 residents. Its population density is around 2,437.4/sq mile. Twin Falls has a total area of about 16.0 sq miles, where all of it is land. Major roads that you can access from the city are Interstate 84, U.S. Route 93, and U.S. Route 30.
Health care centers that are located in the area include Family Health Services- Acute Care, Magic Valley Urgent Care Pllc, Nielson Family Chiropractic, Physicians Immediate Care Center, Planned Parenthood Of Idaho Inc., St Luke's Canyon View Behavioral Health Services, Twin Falls Creative Arts Center, Addus Health Care, Marion and Tara's Massage & Nutrition for Body Mind, and Spirit, and many more. photo attribution: ufv