The nursing assistant classes located in Pahrump, that are approved by the Nevada Board of Nursing and available as of the making of this post are shown on this page. For the latest information about how to become licensed to work, class schedules, program tuition costs, or the certification exam, call the number provided.
Pahrump Valley High School
501 E. Calvada Blvd.
Pahrump, NV 89048
(775) 727-7737
http://pvalley-hs.nye.k12.nv.us/
(Offered to high school students only)
Pahrump Health & Rehab
4501 NE Blagg Rd.
Pahrump, NV 89060
(775) 751-6600
http://pahrumphealthandrehab.com/
There are several requirements to meet before you can become licensed to work as a nurse aide in the state of Nevada. One of the most important being that you enroll in state-certified training classes and finish the required amount of hourly instruction.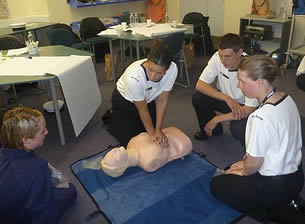 All applicants are required to submit fingerprint cards when applying for the NA Registry. These cards are provided by the state's Board of Nursing. If you had your fingerprints taken within the state, you may send your prints by electronic transmission instead of sending the cards. The cards will need to be filled out completely with the use of legible handwriting. You will be required to enter your complete name, address, citizenship, date of birth, sex, your height, and other personal information. Incomplete cards will be sent back to its sender as well as illegible cards.  When you send the cards, you will also need to send the payment for the processing fee. For those who will be sending them electronically, they will pay the fees to the agency that took their fingerprints. It may take up to 4 months for the BON to get the official fingerprint results from the FBI and the Department of Public Safety. The background checks are done at both federal and state levels.
After your instruction which will take approximately 8 to 13 weeks to complete you can schedule a date to take the license examination. The exams are two part which are a written multiple choice portion and a demonstration part. To learn more about the examination schedule you can look at this PDF https://www.prometric.com/en-us/clients/Nurseaide/Documents/Nevada/nvtestingcalendar2013.pdf. Those who pass the exams completely are deemed certified and listed in the state registry for 24 months and can be hired in long-term care facilities to begin working.
This is a census-designated place that is situated in Nye County. It is also an unincorporated town there. As of the latest census, their total population was around 36,441. It is considered to be the largest settlement in the county. It has a total area of approximately 364 sq miles, where all of it is land. Its population density is 100.1/sq mile. This place was said to be discovered back in the late 19th century by the Shoshone.
Health care centers that you can find in the area include STD Test Express, Pahrump Mental Health Center, Pahrump Dialysis Center, Specialty Medical Center, Precious Care Home Health Services, Westcare, Home Health Services of Nevada, Advanced Insight Behavioral Health, and Canyon Gate Medical Group. photo attribution: nznavy