The nursing assistant classes in New Port Richey, Florida that are shown on this page are all the stat certified programs that are being offered as of the moment. To get more details about class instruction costs, certificate requirements, course schedules, or curriculum, please call one of the training facilities on this list below.
Gulf High School Nurse Aide Training
5355 School Road,
New Port Richey, Florida 34652
(727) 774-3300
James W. Mitchell High School CNA Program
2323 Little Road,
New Port Richey, Florida 34655
(727) 774-9200
Marchman Technical Education Center
7825 Campus Drive,
New Port Richey, FL 34653
(727) 774-1700
Pasco-Hernando Community College
10230 Ridge Road,
New Port Richey, Florida 34654
727-847-2727
Before you can take care of the patients as a nursing assistant, you have to receive the proper training from a CNA training program that is certified by the state. By doing so, you can make sure that you will be able to apply for the license exams after you complete your training. Having a license is necessary to have since the state of Florida does not allow its nurse aides to work in any healthcare setting without one. You must be at least 18 years old to become a nursing assistant and have a high school diploma or something that is equivalent to it.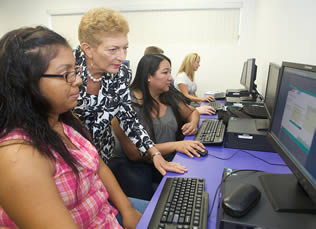 Other requirements for the license exams include passing a fingerprint card, ID photo, transcripts, passport sized pictures, complete application form, and the payment for the background checks. You cannot take the exams if you fail the federal and state background checks. This rule is applicable also to those who are applying for endorsement to work as a nurse aide in this state. For more information, you can contact the state's Nurse Aide Registry at (850) 245-4567.
This city is situated in Pasco County. It is a part of the Tampa-St. Petersburg-Clearwater, Florida Metropolitan Statistical Area. According to the census of 2000, their total population was around 26,033 people. It has a total area of approximately 4.6 sq miles, and a population density of 3,503.7/sq mile.
Health care centers that you can find within the city include Community Hospital of New Port Richey-Memory Diagnostic Center, Access Healthcare, Marilyn Hyde Medical Records Consultant, Advanced Healthcare Alternatives Inc., Seven Springs Medical Center, Central Medical Clinic, Consulate Health Care, and many more. photo attribution: departmentofed