The certified nursing assistant classes in Naples, Florida that are open for enrollment at this time are listed in detail below. For any questions about the program requirements of the certification programs that are available in the city, please contact the school through the phone number displayed on this page.
Southwestern Vocational Training
599 9th Street North,
Naples, Florida 34102
(239) 384-9309
American Red Cross Collier County Chapter
2610 Northbrooke Plaza Drive,
Naples, FL 34119
(239) 596-6868
Bentley Classic Academy of Healthcare LMG Nurse Aide Course
875 Retreat Drive,
Naples, Florida 34110
(941) 598-3191
Caregiver Education
5009 Tamiami Trail East
Naples, FL 34113
239-331-4923
Lorenzo Walker Institute
3702 Estey Avenue,
Naples, FL 34104
(239) 377-0900
Med-Life Institute
4103 E. Tamiami Trail
Naples, FL 34112
239-732-1300
To become a nursing assistant, you must complete a CNA training course that is approved by the state. You can find that these programs are being offered by colleges, high schools, and nursing homes. To complete a program, you must have at least 75 hours of lessons and 100 hours of skills training. State-approved programs will let you experience what it is like to work in an actual clinical setting, since this is part of the training. As a nursing assistant student, you will learn different concepts like infection control, mental health, rehabilitation, communication skills, patient's rights, as well as skills like bed bath, assisting in ambulation, ROM exercises, catheter care, and other basic care skills.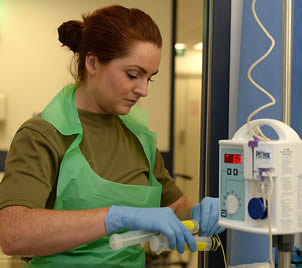 After the completion of your nurse aide training, you can then apply for the state exams. When applying for the exams, you must submit other documents such as your transcript of records to show you have completed the proper training course, fingerprint card, ID photo, 2 passport sized pictures, and the payment for the background checks. You will not be allowed to proceed to take the exams if you fail this part. You will also not become eligible for a refund on any fees that you paid during your application if you fail any test. Submitting the necessary documents will hasten the release of your certification if you pass the exams.
This city is the county seat of Collier County. It is a principal city of Naples–Marco Island Metropolitan Statistical Area. The city was founded back in the late 1880s by former Confederate general and Kentucky U.S. Senator John Stuart Williams and Walter N. Haldeman. It has a total population of 21,653 during the last census. Its total area is approximately 14.4 sq miles, and has a population density of 1,744.3/sq mile.
Examples of health care providers that you can find within the city include Gates Herbert S III MD, Naples Podiatry Center, Transitions Recovery Program, All About Smiles, Comprehensive Pain Center Of Naples, Allergy Asthma & Immunology Center, Moon Family Health Center, and many more. photo attribution: defenceimages