The training in Woodland, Washington to help you become a certified nurse aide is available on this page. Schools are required to be approved by the OBRA registry to make you eligible for the exams. For more information, please call the number provided.
Woodland Rehab Center
310 4th Street,
Woodland, WA 98674
(360) 225-9443
In order to work as a nursing assistant in Washington, you must have your name on the Nurse Aide Registry. If you've never been certified before as a nursing assistant, then the only way for you to get it on the NAR is by challenging the Nursing Aide Assessment Program Examination or NNAAP exam.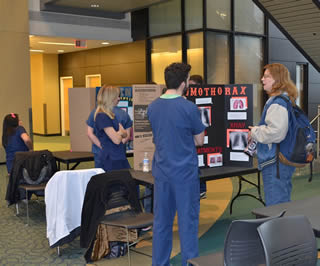 The National Nurse Aide Assessment Program Examination
The NNAAP exam was developed to test the competency of all aspiring nursing assistants. It consists of a multiple-choice knowledge test and a clinical skills evaluation. Candidates must pass both tests to receive a Nursing Assistant Certification. Candidates are given the option to take either a written test or an oral exam for the knowledge test. They have a maximum of 2 hours to answer all 70 questions on the knowledge test and 25 minutes to perform all require skills.
If a candidate fails, he is given another 2 attempts to pass. These attempts are only valid within 2 years after applying for the exam. If a candidate fails his 3rd attempt or fails to pass within 2 years after applying, then he or she must undergo retraining.
Establishing Eligibility for the NNAAP Exam
The NNAAP exam is only available to individuals who were able to receive proper training from a state-approved training program. Luckily, there are different ways for a person to establish eligibility. In order to qualify, an aspiring candidate just needs to do any of the following:
•    Complete a Nursing Assistant Training Program (NATP) that's approved by the state's Department of Social and Health Services
•    Complete a Nursing Education Program as either a nursing student or graduate
•    Complete a Military medic or corpsman training program
•    Complete a training program that's offered in another state
•    Have a lapsed Nursing Assistant Certificate that hasn't expired for more than 1 year
•    Complete a state-approved alternative "bridge" program.
Getting a Nursing Assistant Certification through Endorsement
Nursing assistants or nurse aides from other states are welcome to transfer and work in Washington. Before they can start working, they'll have to first apply for endorsement. Applicants must have a clean record and a valid certification. They must not be on the Abuse Registry. A person whose name is on the Abuse Registry can no longer work in any healthcare facility in Washington. You can follow this link: http://www.doh.wa.gov/LicensesPermitsandCertificates/ProfessionsNewReneworUpdate/NursingAssistant.aspx and get a copy of the application form.
This city is a part of both Clark and Cowlitz counties. It is also included in the Longview, Washington Metropolitan Statistical Area. According to the census of 2010, their total population was around 5,509 people. The city has a total area of approximately 2.6 sq miles and has a population density of 2,203.6/sq mile.
Health care providers that you can find serving the city include Hudson's Bay Medical Group Inc PS, Family Health Center, Gerne Ronald S DC, Cowlitz County Guidance Assoc, Beam of Loving Guidance, and Medical Clinic Pearson. photo attribution: codnewsroom