The nurse aide training schools that are open for enrollment in Middletown, Rhode Island are found here. If you want to find out more about how you can enroll in class instruction, you can call the program listed below.
Grand Islander Genesis Health Care
333 Green End Avenue,
Middletown, RI 02842
(401) 849-7100
http://www.genesishcc.com/GrandIslander
Enrolling in a Rhode Island Department of Health approved training program is the first step towards a wonderful career as a CNA. It is important that candidates learn the proper ways to meet the individual needs of their patients before they work as full-time nursing assistants.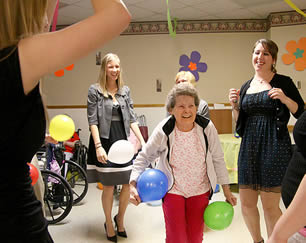 The state requires all programs to be finished in less than 90 days, although, the majority of them can be completed within 4 to 8 weeks of continuous training. During the clinical training portion of the program, students must be placed under the supervision of a registered nurse who has trained to handle student nursing aides. Students will be taught about concepts such as infection control, mental health, communication skills, basic nursing care, roles and responsibilities, and many more.
Upon completing your training, you will then be allowed to apply for the NNAAP exam. Taking this exam is the final step that you need to take before becoming a CNA. This exam consists of a multiple-choice knowledge test and a skills evaluation exam. Candidates may indicate whether they want to take an oral or written exam for the knowledge test. It is conducted by the CCRI with the assistance of Pearson VUE. You can download a copy of the application form, and send it along with your proof of training completion and the payment of $99 to:
Community College of Rhode Island
Center for Workforce and Community Education
Rhode Island NNAAP
400 East Avenue
Warwick, RI 02886
The exam results are released on the same day if there are no technical problems. If you pass both tests, then your name will be entered into the Nurse Aide Registry. Your CNA certificate will be sent to your mailing address within a few days after passing. You may check your status as a certified nursing aide by going online and visiting www.health.ri.gov/hsr/professions/license/php.
Your name on the Registry, as well as your eligibility to work as a full-time nursing aide, is only valid for up to 2 years. You need to renew your certification to keep your eligibility to work as a CNA. To qualify for renewal, the state requires you to work for at least 8 hours as a paid nursing aide within the last 24 months. If you fail to renew, your certification will be considered lapsed. No worker is allowed to continue employment with a lapsed certification.
The town of Middletown is in Newport County. This town is situated just north of Portsmouth and is north of Newport. This is why it was given the name "Middletown". This town is also located on Aquidneck Island. According to the census of 2010, their total population had reached up to a total of 16,150 people with a population density of 1,242.3/sq mile. The total area of the city is approximately 14.9 sq miles.
The Newport County Community Mental Health Center Inc – Anita Jackson House, Seacrest Doc Security, Newport County Community Mental Health Center Inc., Genesis Health Care, St Georges School – Health Center, Newport County Community Mental Health Center Inc – Children's Intensive Services, Valley Primary Care, Forest Farm Health Care, and Forest Farm Health Care Centre – Dietary are examples of the health care providers that are located in the town. photo attribution: jmsmith000