The nurse aide training currently being conducted in Farmerville, Louisiana are listed here. These facilities have all the information that you need to know to become licensed in the state and able to work in health care institutions. For more knowledge on the instruction requirements, please call the phone number below.
Northeast Louisiana Technical College
605 West Boundary,
Farmerville, LA 71241
(318) 368-3179
www.myneltc.edu/
You need to undergo a state approved training program first before you can work as a nursing assistant in the state of Louisiana.  The course lasts only for a few weeks and costs several hundred dollars.  These programs are offered by different institutions such as colleges and community training centers. Each of the programs has their own requirement upon enrollment. During your instruction you will be able to learn the required skills and knowledge through classroom sessions and clinical practice.  Once you are in, you will be spending at least 80 hours of training in classroom lectures and clinical duties. The 80 hours that is required by the state is simply a minimum requirement. It is always better to receive more training, so do not wonder if you have reached that number and is still in the program.  All that preparation will be helpful to you when you take on the license exams.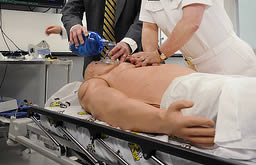 After finishing the course, you are eligible to take the state competency exam and be entered in the state's nurse aide registry if you pass both the written and skills test. The validity of your license will only last for up to 2 years. The expiration date for the licenses in Louisiana is the same as the day it was issued to you. In order to ensure that you will be eligible for the renewal of your license, you have to make sure that the place where you are working is approved by the Department of Health and Hospitals. If not, you must work in one for at least 8 hours with pay under the guidance of a registered nurse. You can search for your certification status by visiting www.labenfa.com. For personal help via the phone you can speak with Shirley Smith, at (225) 342-5779.
This town is the parish seat of Union Parish. The town is located near Lake D'Arbonne. It is included in the Monroe Metropolitan Statistical Area. According to the census of 2000, their total population was around 3,808 people. They had a population density of 691.7 / sq mile. The total area of this city is estimated to be 5.6 sq miles, where almost all of it is land.
Health care providers and centers that you can find near the town include Timberlake Healthcare, Family New Life, Liberty Healthcare Systems, Gambro Healthcare, Reflections Healthcare, Union General Rural Health Clinic, Carpenter's Health Clinic, Rehab Solution Management, Union General Rural Health, Liberty Healthcare System-Farmerville, and many more. photo attribution: usnavy